Food News
Notch Brewing, one of the market's tenants, opens Friday.
The collection of low-slung buildings at 525 Western Ave. in Brighton has held various roles in its 120-plus-year history. In the late 19th century, the Metropolitan Park Commission, which has since become the Department of Conservation and Recreation, built the structures as a home base for the Charles River Reservation, complete with administrative offices, horse stables, and a cow barn. It later became a police station and a dormitory.
Soon, the location is set to reopen in its latest form: The Charles River Speedway, an open-air marketplace featuring a brewery, a sake bar, an ice cream shop, and more. On Friday at 4 p.m., Notch Brewing will be the first tenant to debut.
After the City of Boston named The Speedway a landmark in 2013, the Architectural Heritage Foundation was awarded a 60-year lease to redevelop the complex in partnership with the Department of Conservation and Recreation's Historic Curatorship Program. The foundation brought in Graffito SP, a retail development and advisory firm, to find local, independent tenants to fill the space, while Bruner/Cott & Associates were hired as architects.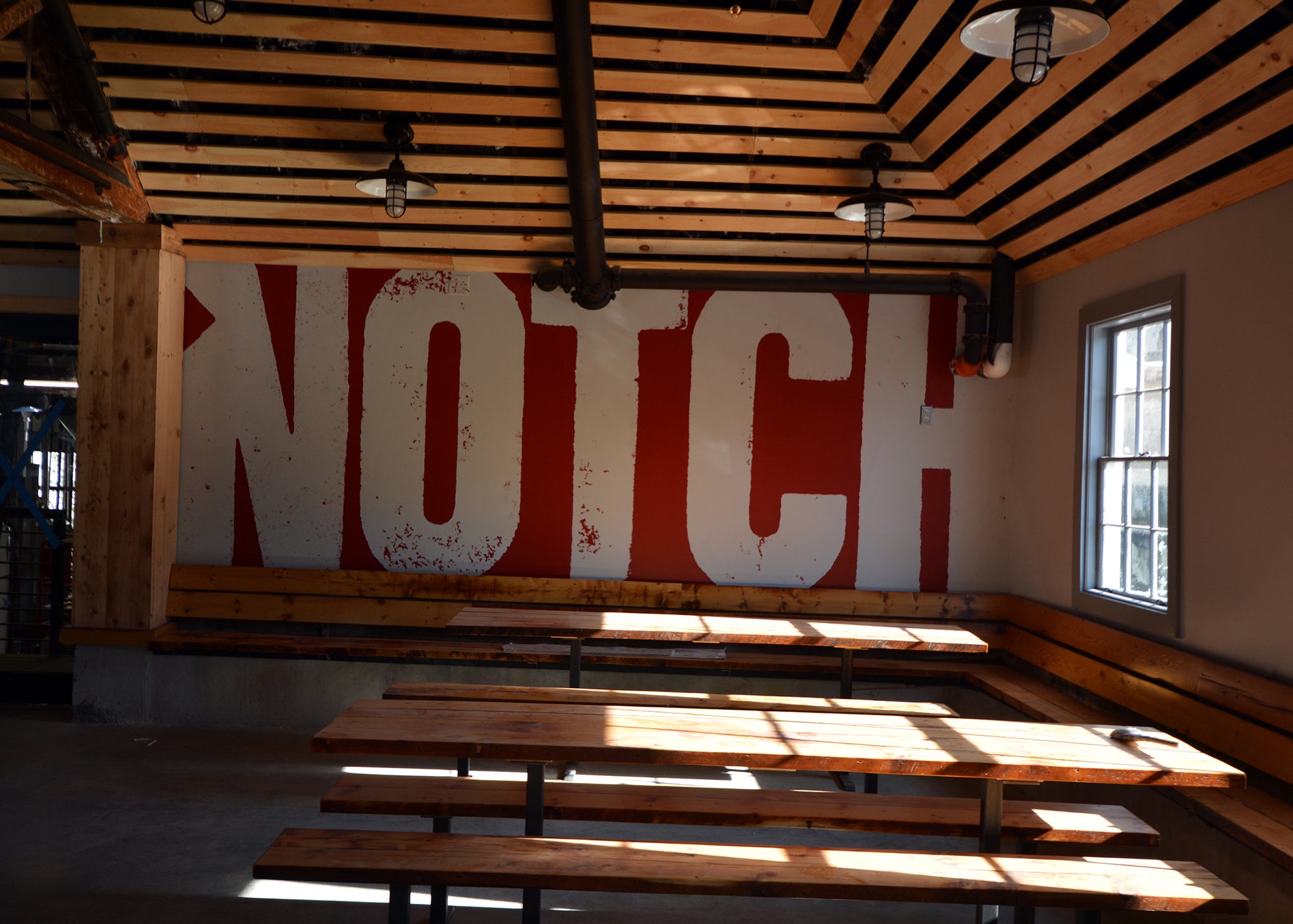 So far, seven businesses have signed leases at The Speedway, most of which are located in one of six compact stalls facing a spacious courtyard. (The development also houses offices, including the foundation's own headquarters.) The market's largest retail space, though, is a 3,766-square-foot former horse stable occupied by Notch Brewing. When it opens Friday, the Salem-based brewery will offer a 150-seat taproom and an outdoor beer garden; the Bonetown Burgers & BBQ food truck will also be on site. Inside the taproom are original beams from the old stable, a custom-built locker for the brewery's mug club, and murals by Best Dressed Signs.
"We structured [the leases] so it's easy in, easy out," Markos Doyle, general manager of The Speedway, told Boston.com, noting that short-term leases are available for one to three years. "People who weren't able to expand or open up can now have an actual brick-and-mortar location."
Among the new tenants is Alyssa Mikiko DiPasquale, who will open The Koji Club in one of the stalls this fall. The sake bar is an offshoot of her pandemic-born business by the same name, which began hosting sake classes and events over Zoom in June 2020. Now with a permanent home, guests will be able to gather at the physical bar to taste and learn more about sake.
David Lindsey and Gerly Adrien, owners of Tipping Cow in Somerville, are also expanding into The Speedway, where they'll open a second ice cream shop. Aiming to debut this summer, the shop sports a vibrant mural behind its counter, where guests will be able to order Tipping Cow's signature nut-free ice cream and milkshakes.
Avi Shemtov, founder of Simcha and A La Esh BBQ in Sharon and The Chubby Chickpea food truck, will open a hummus-centric restaurant in the coming months. According to Edible Boston, the eatery will offer dishes like creamy vegan dip served with pita or vegetables, and Moroccan-spiced carrots with honey and sesame seeds.
Other retail vendors located in the stalls include Bellwether Salon, a boutique salon from stylist Melinda Brandt, and House of Art and Craft, a sustainable goods store from founder Steysy Clark, who plans to host workshops for visitors wanting to learn how to make home-scenting products.
Across the courtyard sits Super Bien, a pint-sized market from Melissa Stefanini, co-founder of Bow Market's Buenas. The 460-square-foot grocer will stock Buenas products, along with South American wines and goods from other local purveyors, like flan from La Flaneteria. Limited counter seating will be available.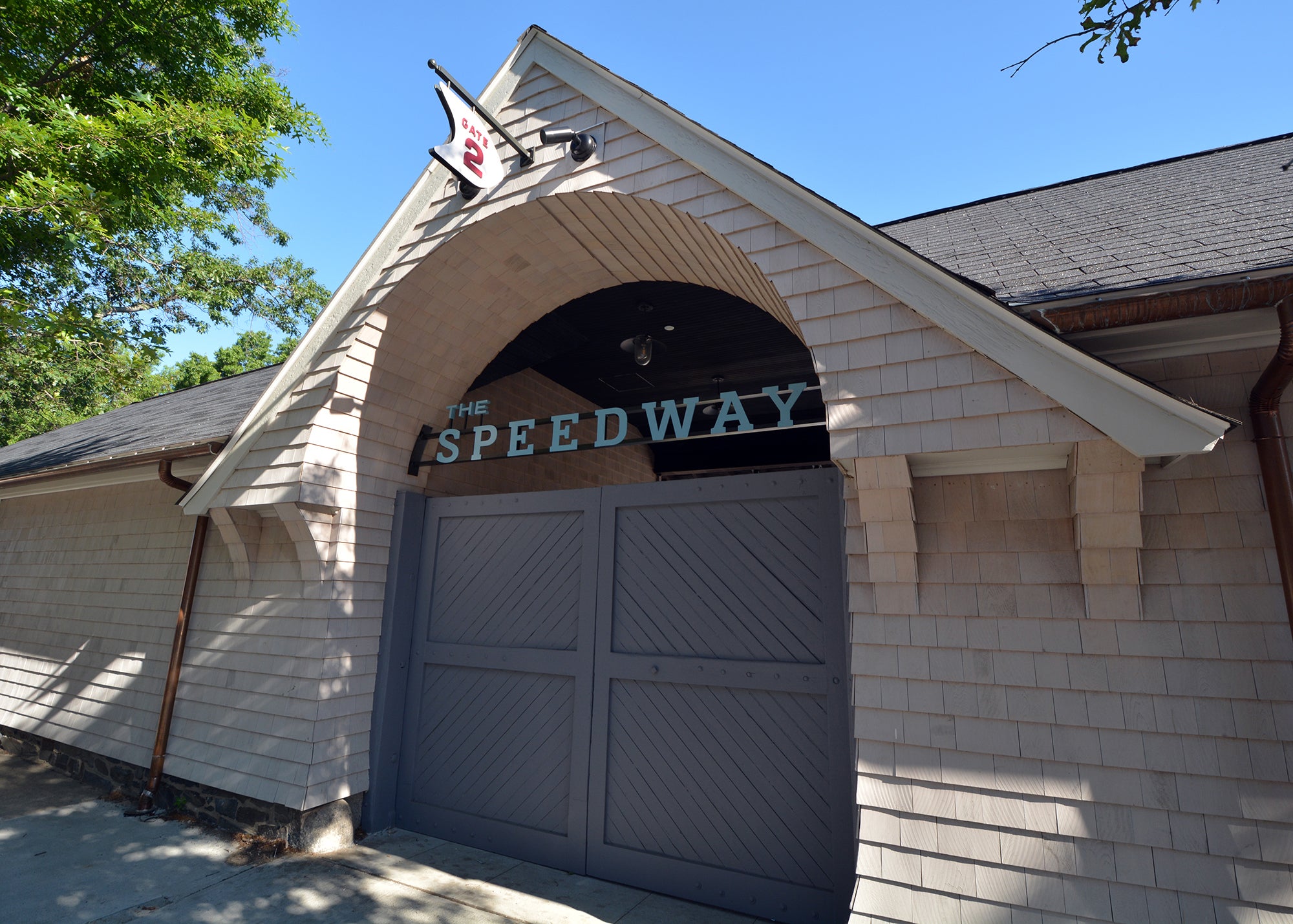 Doyle said opening a concept within The Speedway is ideal for business owners who are just starting out.
"It gives them the chance to expand and grow, so hopefully they'll have a second location or they'll outgrow us here, which gives us a chance to bring on someone else," he said. "They're as excited to get in here as we are to have them."
There are a few retail spots left, including a basement that Doyle hopes will become a speakeasy-style cocktail bar. An event space facing Soldiers Field Road is available for weddings, corporate parties, and other large gatherings, with rolling doors that open to a small outdoor space — a boon to those who are just starting to get comfortable with post-COVID get-togethers. The foundation is also sorting through tenant applications from nonprofit organizations, one of whom will be awarded a one-year lease to occupy one of the office spaces for $1 per year.
Following Notch's opening on Friday, the other businesses will debut at staggered times throughout the summer and fall, though none have firm dates yet. In the meantime, Doyle said they are planning for concerts, Sunday morning yoga classes, and other programming to take place in the courtyard.
"This part of town is changing so rapidly," Doyle said. "There are fewer and fewer places where the community can get together, so we're hoping to be a hub for that."
Stay up-to-date on food news
Sign up for The Dish and get the latest food and restaurant news in your inbox.