Summary:
Spain cases top 500k
UK warns "don't kill grandma" as cases near 3k for 2 days
US reports fewest new cases since mid-June, fewest deaths since July 4
India reports most new deaths since June
South Africa GDP contracts by 51% due to COVID lockdown
South Korea says Chinese travelers test positive
President Xi defends Chinese COVID numbers
Vaccine makers say they will wait for Phase 3 trials to end before seeking emergency approval
Another Russian vaccine proved safe for human use
* * *
The US reported the fewest new cases in a single day since mid-June Monday as the labor day weekend led to an expected slowdown in testing.
But while Dr. Fauci and his coterie of experts warn about a looming surge in new cases as students return to schools and more businesses reopen, deaths declined yesterday to the lowest single-day number since – oddly enough – July 4.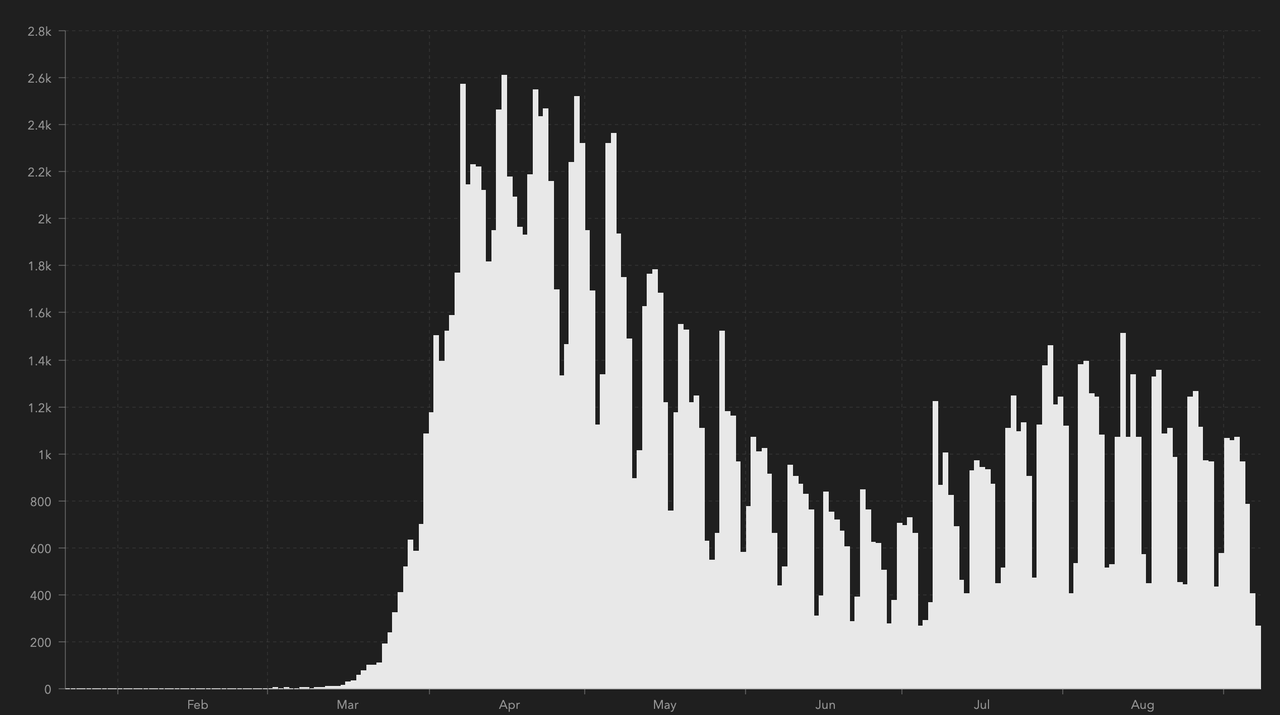 Is there something about federal holidays that impacts how COVID-19 deaths are counted? It certainly looks that way. But even more important than the single-day number is the 7-day average, which has declined sharply over the last day as US deaths have slowed markedly.
A similar trend is ongoing in Brazil, which ceded the No. 2 spot to India over the weekend as the number of new cases and deaths being reported per day in Latin America's biggest economy has contined to slow.
Brazil yesterday reported the fewest new deaths since May 17.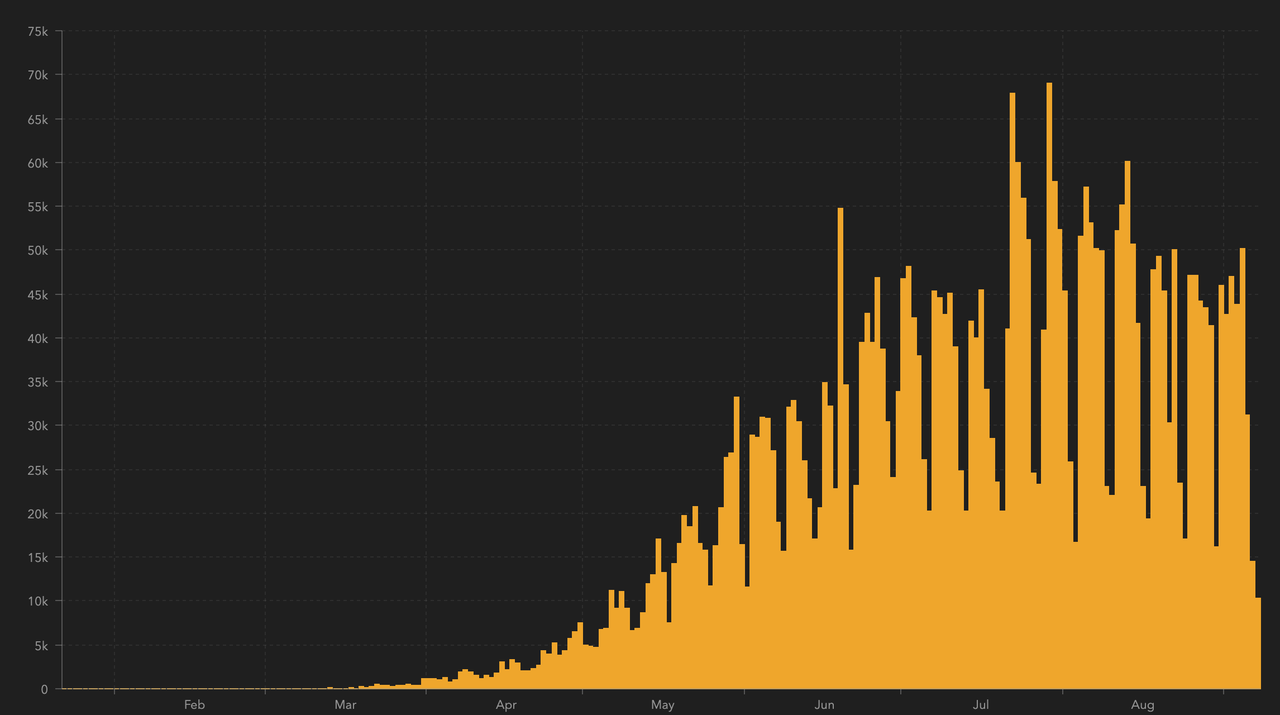 Globally, the number of confirmed cases has reached 27,339,132 total coronavirus cases, while deaths worldwide topped 890k, to 892,443. Critically, the number of new cases reported yesterday declined to 228,588 new cases, the lowest number since Aug. 30, according to Johns Hopkins.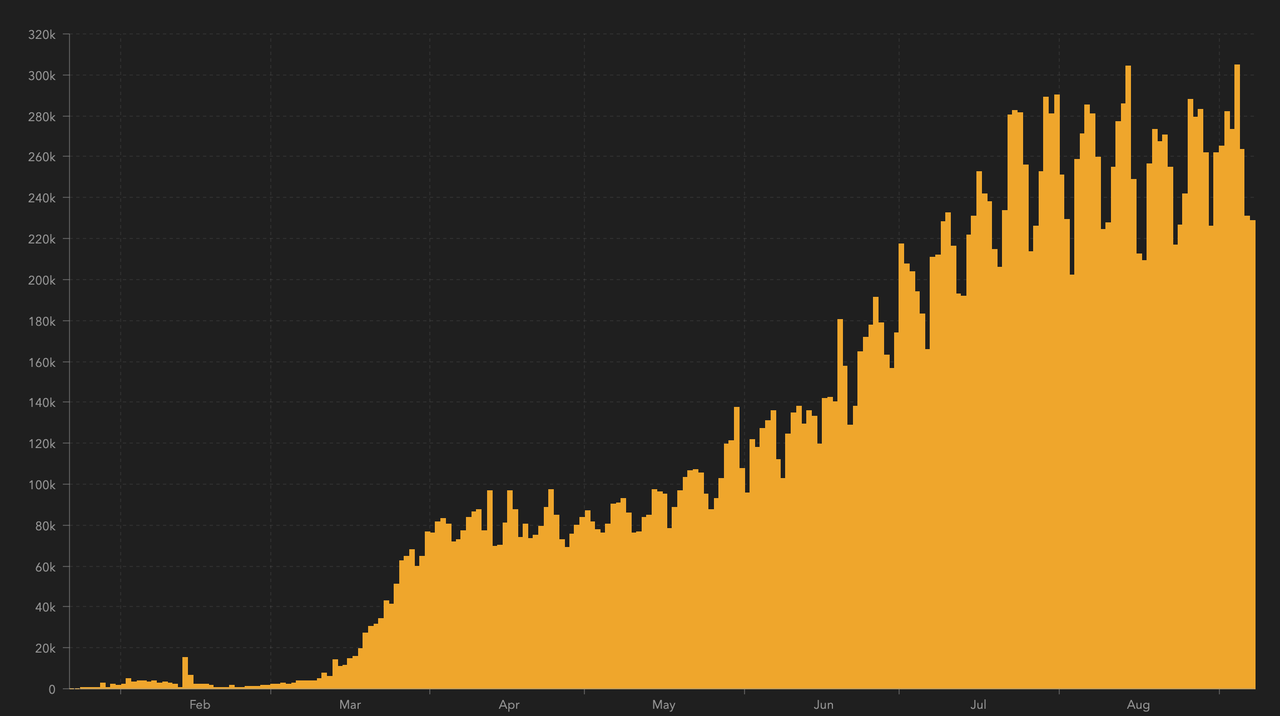 Deaths, on the other hand, increased by 9,104, the highest single-day total since Aug. 14.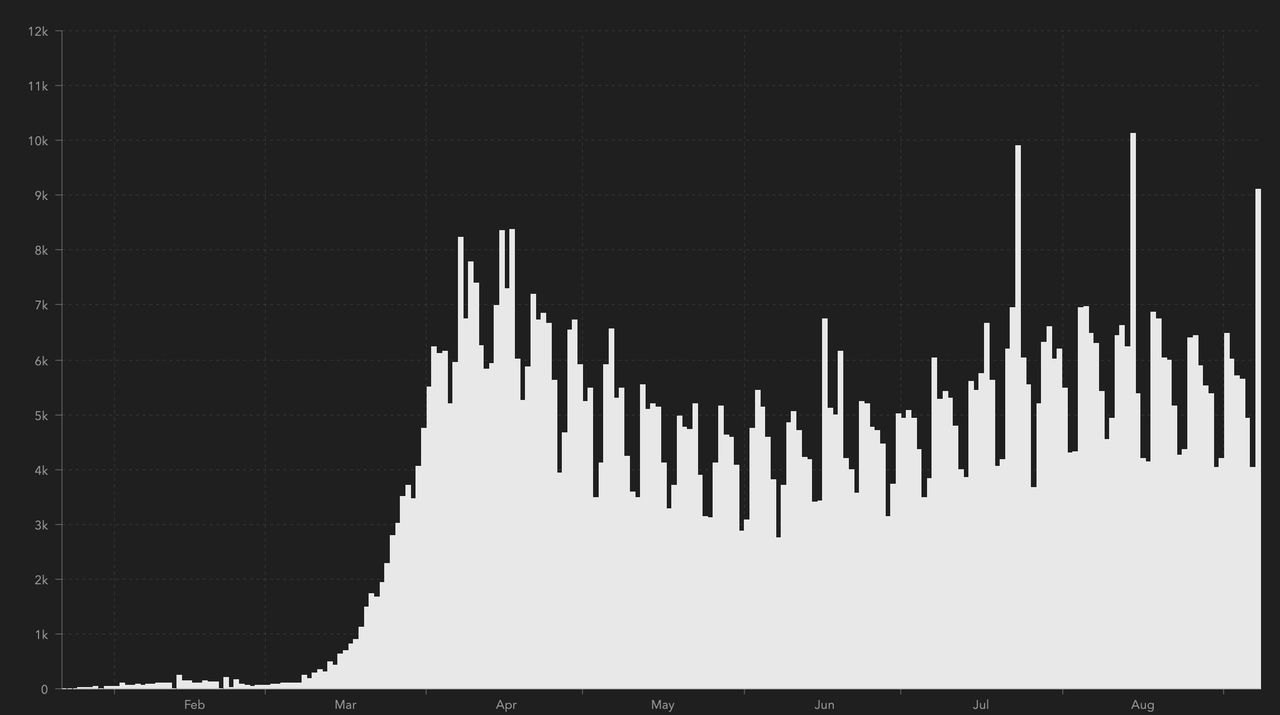 India's surge is largely being driven by a government testing campaign which is intensifying as public transit and subways across the country reopen this week, and other steps to reopen the economy are taken by PM Narendra Modi's HIndu nationalist government following the worst quarterly contraction in modern Indian history.
Though India's mortality rate has lagged other major outbreaks, the country reported its largest daily death toll since mid-June on Tuesday, with 1,133 deaths in the last day, according to JHU, lifting the total death toll to 72,775. Other sources, including Reuters, put the country's daily death tally was the highest in a month.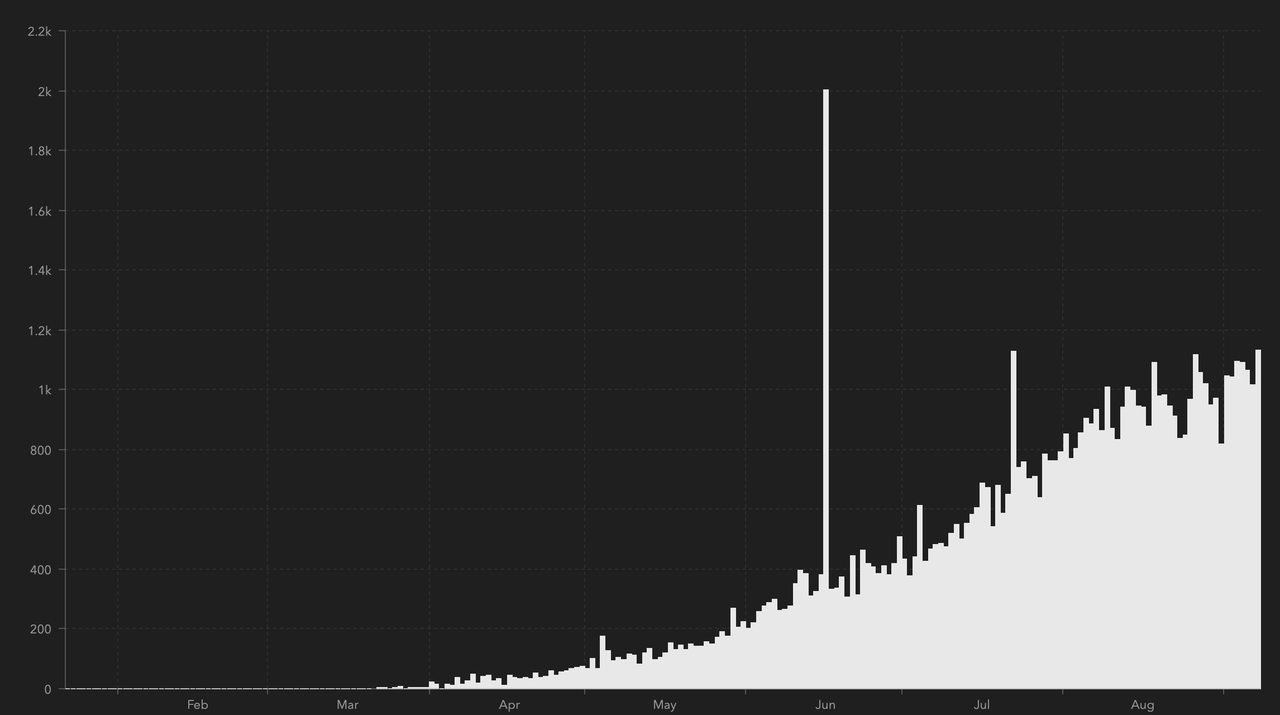 The latest disappointing batch of economic data was just published by South Africa, which saw its economy contract by a staggering 51% due to a restrictive COVID-19-inspired lockdown, which still didn't stop South Africa from becoming the worst hit country in Africa, though its daily cases have slowed markedly.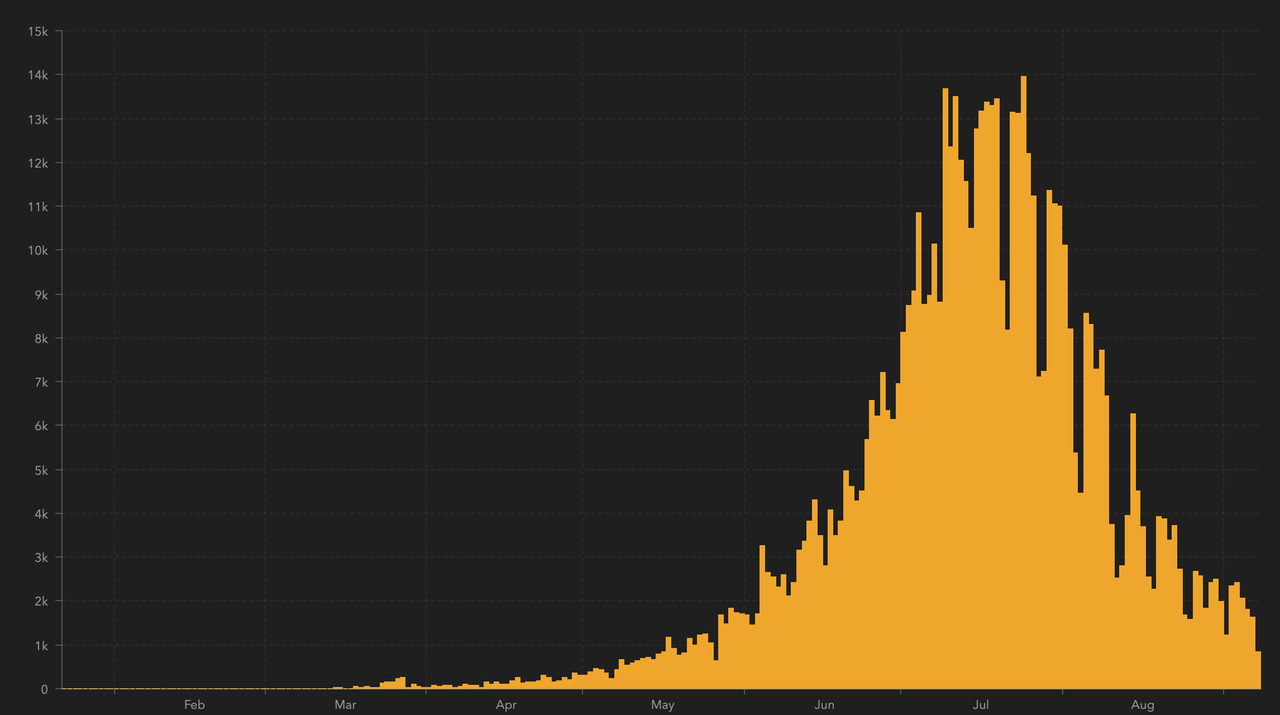 The biggest story this week is undoubtedly Europe's second wave, which is finally in full swing, with the UK reporting an alarming surge late last week as it continues to ease restrictions on its schools and economy.
Spain reported more than 26,000 new cases over the weekend, according to JHU data, its biggest daily number yet, cementing Spain's status as the leader of the rebound and the first western European country to surpass 500k confirmed cases.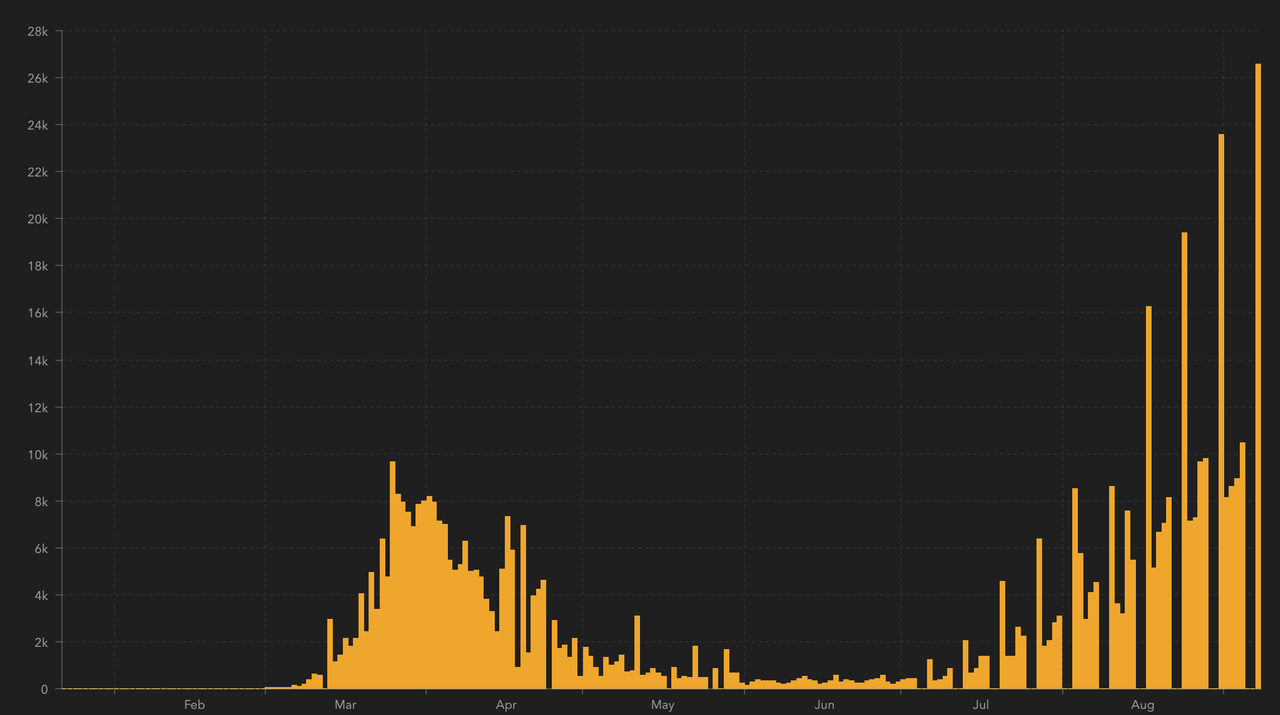 France reported more than 19,000 new cases over the weekend.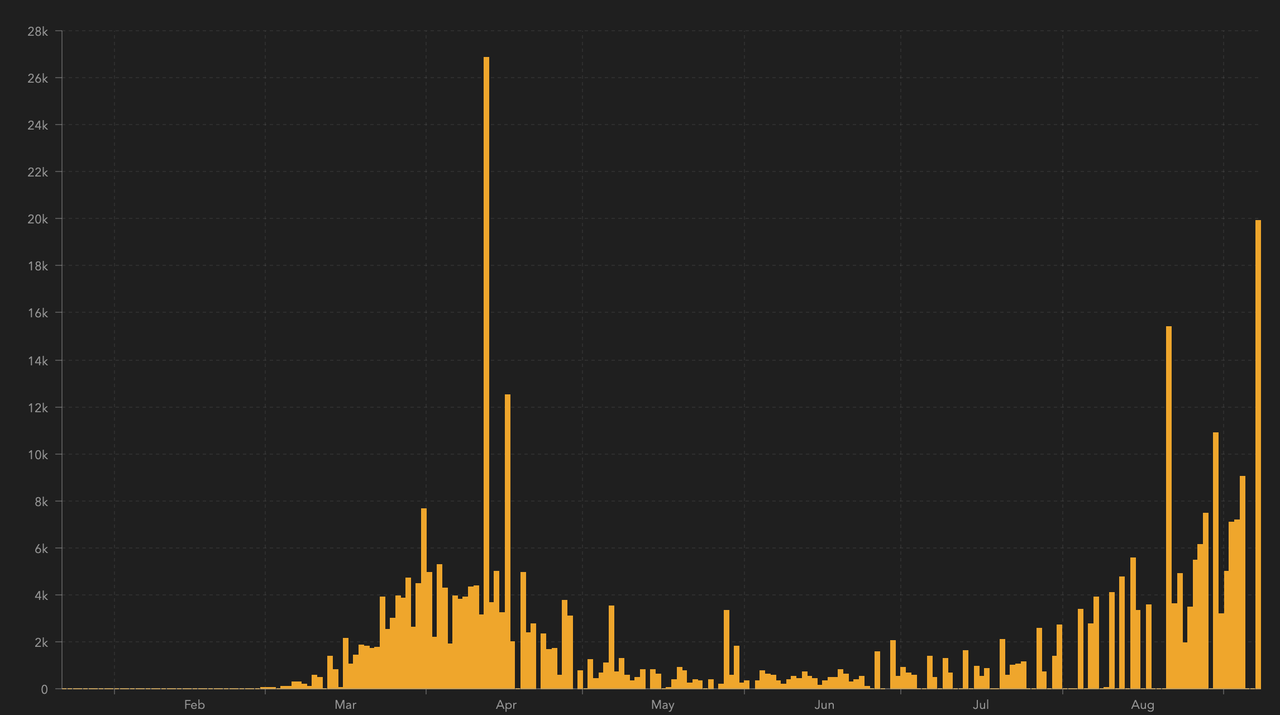 Speaking during a ceremony in Beijing, President Xi insisted that China had been "open and transparent" about the coronavirus.
In Russia, another vaccine could be on its way to government approval, with Siberia's Vector virology institute completing Phase II, which involves roughly 100 human volunteer test subjects, which suggests the vaccine is safe. Russia registered its first vaccine candidate, developed by Moscow's Gamaleya Institute, back in August, and is currently aiming to finish up Phase 3 testing by the beginning of November. The final round of trials, involving some 40,000 participants around the world, were launched last week, and on Tuesday. Russia reported 5,099 new coronavirus cases , pushing its national tally to 1,035,789, the fourth largest in the world.
Authorities confirmed 122 deaths in the last 24 hours, bringing the official death toll to 17,993.
After the UK reported just under 3k new cases in a single day twice in a row over the weekend…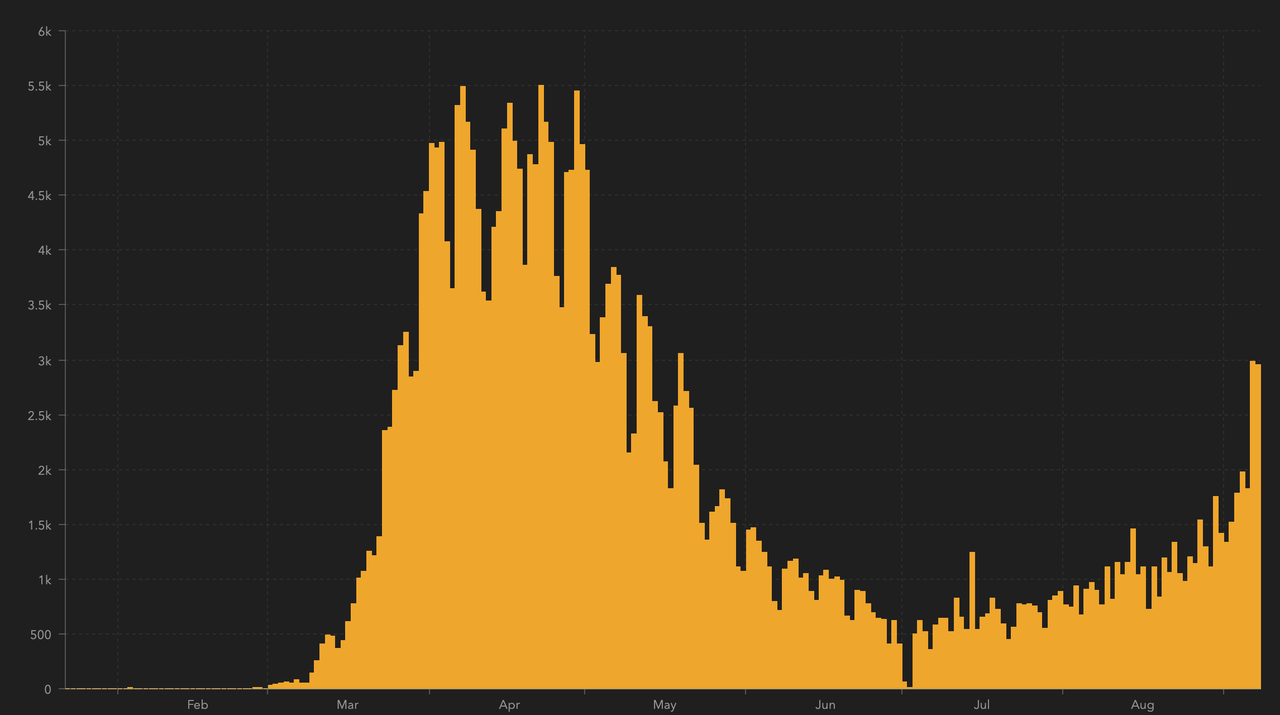 …HMG is reviving its efforts to encourage young people to behave responsibly. "Don't kill your gran," Health Secretary Matt Hancock warned.
In a bombshell accusation that calls China's COVID-19 numbers into question, South Korea reported that five passengers arriving in South Korea from China have been tested positive for coronavirus since Aug. 16. Among the five, two were South Korean citizens and three were Chinese nationals. All showed no symptoms. However, in a major speech on Tuesday, President Xi insisted that Chinese data were accurate.
Finally, in the US, amid growing pressure on the FDA to ensure that any vaccines receiving emergency approval still meet rigorous standards, the top vaccine makers in the west said Tuesday that they'll wait until Phase 3 trials have been finished before requesting emergency approval for their vaccines.