Violence erupted between officers and rioters on the second night of protests over the police shooting of Black man Walter Wallace in Philadelphia.
Videos circulating social media show police using batons and throwing punches at protesters as they try to contain the chaos.
One clip captured an officer swiping his baton at a protester who is attacking another officer. A third officer can be seen trying to respond to the violence but trips over as a group of people pile up on the ground.
A row of police face demonstrators in Philadelphia on October 27, 2020, during a protest over the police shooting of 27-year-old Black man Walter Wallace.
GABRIELLA AUDI/AFP via Getty Images
Elsewhere, a group of protesters surround police, shoving them and blocking them from riding their bikes. Footage also captured the deployment of tear gas and flash-bangs as demonstrators hurl missiles at police.
Stores were ransacked, with footage capturing trashed aisles and broken windows as widespread looting broke out across the city.
The Philadelphia Police Department warned of looting in the area of Castor and Aramingo Avenues, prompting the request that residents remain indoors in West and North Philadelphia, Kensington, and other areas.
*Alert* A large crowd of appx 1000 is looting businesses in the area of Castor and Aramingo. Avoid the area

— Philadelphia Police (@PhillyPolice) October 28, 2020
The Philadelphia Police Department is requesting that all residents in the 12, 16, 18, 19, 24, 25, and 26th Districts remain indoors except when necessary. These areas are experiencing widespread demonstrations that have turned violent with looting.

— Philadelphia OEM (@PhilaOEM) October 28, 2020
According to the The Philadelphia Inquirer, protesters scuffled with police officers in a significant standoff at 52nd and Market. Most of the crowds had reportedly dispersed early into Wednesday morning.
The Pennsylvania National Guard has been mobilized to help with the response to the riots.
Public affairs officer Lieutenant Colonel Keith Hickox said in a statement that Governor Tom Wolf had directed the state's National Guard to deploy to assist local law enforcement "in protecting life, property and the right to peacefully assemble and protest."
Hickox gave no specifics for the number of troops mobilized, how long the Guard presence in the city is expected to last or exactly how many troops will be deployed.
Philadelphia- ANTIFA members surround police and block them from riding their bikes down the sidewalk, repeatedly obstructing them and shoving them.

One officer was a woman who was repeatedly shoved. pic.twitter.com/EsLMUFAsO2

— Savanah Hernandez (@sav_says_) October 28, 2020
Phila. Police commanders say the situation has "rapidly gone downhill†along Aramingo Ave. — a "total loss,†they say, from looting. Chopper 3 shows video of demonstrators & police at 52nd and Chestnut. As of this post, no injuries to police tonight. @CBSPhilly pic.twitter.com/cPjyAqSpys

— Joe Holden (@JoeHoldenCBS3) October 28, 2020
BREAKING: Wal-Mart is being looted for a 2nd time by BLM rioters in Philadelphia

They are looting 15 stores over a 4 block radius. Police have not been able to get the situation under control

Chaos is ensuing to the point where it's not safe anymorepic.twitter.com/U34olfZ835

— ELIJAH SCHAFFER (@ElijahSchaffer) October 28, 2020
Philadelphia Police made 91 arrests as of Tuesday afternoon, according to media reports.
Police Commissioner Danielle Outlaw said there were three citations for failure to disperse, 11 arrests for assault on police, and 76 arrests for burglary, including three burglaries with guns, according to The Philadelphia Inquirer.
At least 30 officers were injured Monday night, including one sergeant who suffered a broken leg after "she was intentionally run over," Outlaw added.
Outlaw also said eight police vehicles and one fire department vehicle were damaged by being set on fire or vandalized.
Newsweek has contacted the Philadelphia Police for comment.
The shooting of Walter Wallace
The violence came as a second night of unrest unfolded in the wake of the police shooting of Wallace on a West Philadelphia street. Officers were called to Locust and South 61st streets just before 5 p.m. on Monday to reports of a man holding a weapon.
A video posted online captured police shooting the 27-year-old several times as he approached them allegedly armed with a knife. He was later pronounced dead.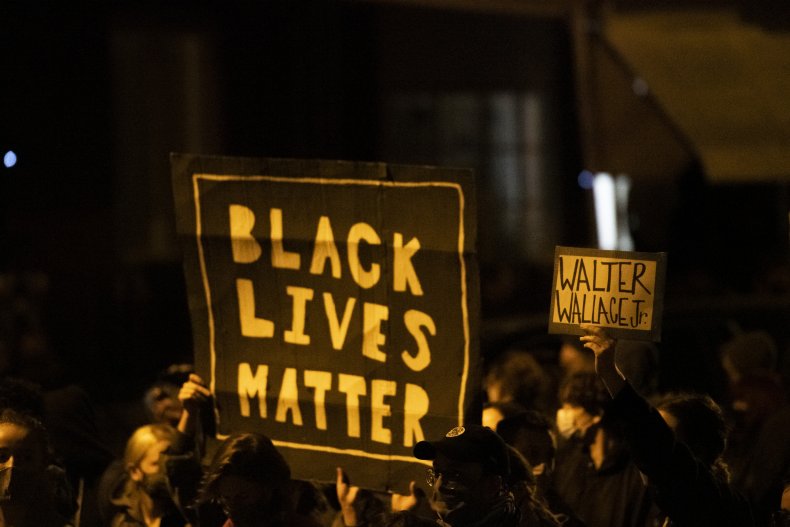 Demonstrators holding placards during a protest near the location where Walter Wallace, Jr. was killed by two police officers on October 27, 2020 in Philadelphia, Pennsylvania.
Mark Makela/Getty Images
In the clip, a woman—reported to be Wallace's mother—can be seen trying to hold him back and officers can be heard repeatedly telling him to drop the weapon.
The man recording the incident can be heard saying: "Did you really have to give him that many shots."
Wallace's family said the 27-year-old suffers from mental health issues and was on medication at the time.
According to The Philadelphia Inquirer, Walter Wallace Sr asked: "Why didn't they use a Taser? His mother was trying to defuse the situation."
In a statement, Outlaw said the video "raises many questions" and announced that the Officer Involved Shooting Investigation Unit will begin an investigation.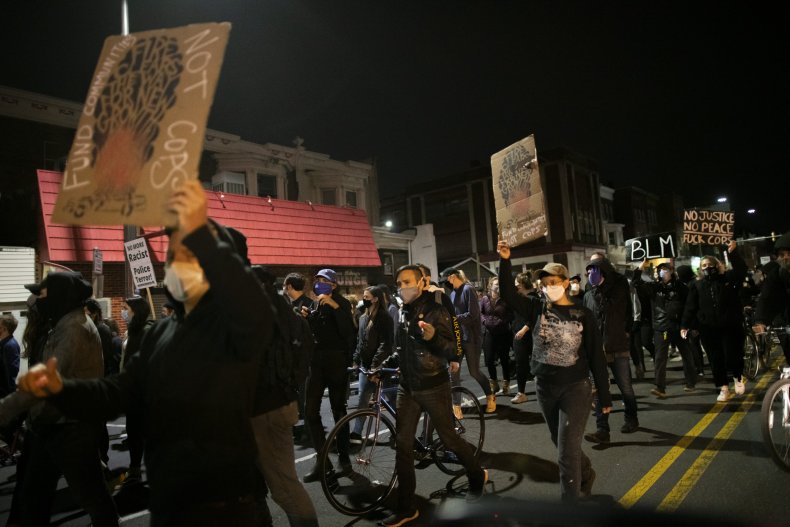 Demonstrations over the officer-involved shooting of Black man Walter Wallace continued for a second night in Philadelphia on Tuesday.
Mark Makela/Getty
She said: "Residents have my assurance that those questions will be fully addressed by the investigation. While at the scene this evening, I heard and felt the anger of the community. Everyone involved will forever be impacted.
"I will be leaning on what the investigation gleans to answer the many unanswered questions that exist. I also plan to join the Mayor in meeting with members of the community and members of Mr. Wallace's family to hear their concerns as soon as it can be scheduled."