A U.S. military officer is set to make a guest appearance on a Taiwan Defense Ministry television program and would become the first serving officer to do so since the two countries ended formal diplomatic ties more than four decades ago, a local newspaper reported on Tuesday.
Col. Brady Crosier, a U.S. Army foreign area officer posted to the American Institute in Taiwan (AIT)—the de facto embassy on the island—was invited to speak on military cooperation during World War II, according to United Daily News.
Specifically, Crosier will help commemorate the 80th anniversary of the First American Volunteer Group (AVG), also known as the Flying Tigers. The 1st AVG was among several U.S. air units formed to aid the Republic of China government in its war against Japan in the Pacific theater.
Shortly after the war, the nationalist ROC lost the Chinese Civil War to Mao Zedong's Communist Party, which founded the People's Republic of China on the mainland in 1949 while the defeated government fled to Taiwan, retaining its official ROC moniker to this day.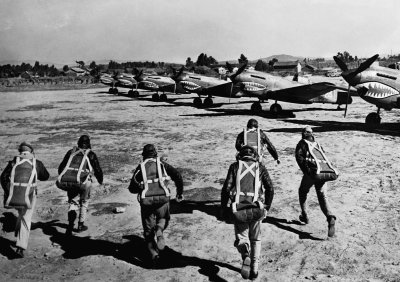 The United Daily News report said Crosier is scheduled to appear in Juguang Garden, the military's educational program produced by the Political Warfare Bureau of Taiwan's Ministry of National Defense and aired by public broadcaster CTS every Thursday.
Crosier, who reportedly heads up the AIT's Office of Defense Cooperation, will appear in this week's 55-minute special episode, the newspaper said, adding that he would also speak on U.S. posture in the Indo-Pacific as well as the importance of U.S.-Taiwan military cooperation.
Reached by Newsweek, a Defense Ministry spokesperson did not confirm details of the officer's appearance, saying only that "persons relevant to the theme" were interviewed as part of efforts to educate the current crop of Taiwanese soldiers and officers.
Juguang Garden first aired in 1975, four years before Washington D.C. ended official diplomatic relations with Taipei in favor of ties with Beijing. Crosier is therefore set to become the first serving U.S. military officer to appear on such a TV show since the unofficial U.S.-Taiwan partnership began more than 40 years ago.
The decision will have been sanctioned by the State Department, which upheld a Donald Trump administration decision to remove longstanding protocols for interaction between American and Taiwanese government officials. The Joe Biden administration released new guidelines to that effect in April.
United Daily News said the Defense Ministry had intended to invite U.S. officials to commemorate the Flying Tigers during Taiwan's Air Force Day celebrations on August 14. However, a now under-control coronavirus outbreak—ongoing since May—led to a change of plans.
The paper said Crosier's TV appearance could signal a "new method" of U.S.-Taiwan engagement going forward.