China has issued a new report analyzing the human rights record of the United States throughout the past year, looking specifically at reports of racial injustice, gun violence and the country's response to the COVID-19 pandemic.
"The United States, which has always considered itself an exception and superior, saw its own epidemic situation go out of control, accompanied by political disorder, inter-ethnic conflicts, and social division," the Chinese State Council Information Office said. "It further added to the human rights violations in the country, the so-called 'city upon a hill' and 'beacon of democracy.'"
The Beijing-based office published the 18-page document entitled "The Report on Human Rights Violations in the United States in 2020" on Wednesday. It led with the quote, "I can't breathe," the final words of George Floyd, a Black man whose death at the hands of a white police officer in Minneapolis last May sparked nationwide protests and riots in which at least 19 people were killed in a few weeks.
"Ethnic minority groups suffered systematic racial discrimination and were in a difficult situation," the report said. "People of color made up about one-third of all minors under the age of 18 in the United States but two-thirds of all of the country's imprisoned minors."
The report stated that in the U.S., Black people were "three times more likely than white people to be killed by police" throughout 2020, with police officers not being charged in about 98% of cases that have occurred in the past seven years.
The publication found that "racism exists in a comprehensive, systematic and continuous manner" throughout the country, and reported examples of white nationalist and neo-Nazi groups openly spreading hateful messaging, as well as the targeting of minority communities such as Asian, Latino and African Americans.
The report has been issued about a week after six women of Asian descent were among the eight people slain in a mass shooting across three spas in Atlanta, Georgia. Ten more people were gunned down days later when a shooter opened fire on patrons and employees at a supermarket in Boulder, Colorado.
The State Council Information Office document said that firearms sales and shooting incidents in the U.S. "hit a record high, and people's confidence in social order waned" in 2020. The surge in gun interest was attributed to "COVID-19 lockdowns, anti-racism protests and election strife."
The report also tackled Washington's response to COVID-19, a coronavirus disease first observed in China, but with more recorded cases and deaths in the U.S. than any other country in the world.
"The epidemic went out of control and turned into a human tragedy due to the government's reckless response," the report argued, noting that the U.S. accounts for less than 5% of the globe's population but a quarter of worldwide instances of COVID-19 cases and nearly a fifth of its fatalities.
The paper argued that "incompetent pandemic response led to dire consequences" and "government inaction led to uncontrolled pandemic spread," which disproportionately affected minority and elderly communities. It pointed to statements from former President Donald Trump ignoring initial signs of spread and downplaying the disease.
Throughout the publication, the State Council Information Office cited other public officials, experts, Western media reports, universities and think tanks.
The report also noted that, as the pandemic raged and the U.S. underwent its "worst economic downturn since World War II," economic inequality increased, mass unemployment plagued the economy, a food crisis emerged, health insurance coverage plummeted and the "digital divide" aggravated inequalities in education among households.
Finally, the Chinese state-sponsored publication accused the U.S. of "trampling on international rules" throughout the pandemic by withdrawing from the World Health Organization, leaving the Paris Agreement designed to combat climate change, threatening the International Criminal Court, instituting unilateral sanctions on vulnerable countries, abusing asylum seekers, practicing forced deportation of children and pardoning personnel accused of killing civilians in other countries.
The report comes as Beijing and Washington feud over the dynamics of what both view as the world's most important bilateral relationship. Relations between the two top powers deteriorated throughout 2020 as the Trump administration toughened policies against the People's Republic and amplified criticism of its actions, including accusations of domestic human rights violations.
The U.S. has charged China with consolidating control over semi-autonomous Hong Kong, suppressing dissent in Tibet and instituting the mass incarceration of the Muslim Uighur community in Xinjiang.
The State Department's last human rights report, published a year ago, pinned a range of violations on the Chinese government, including arbitrary or unlawful killings, forced disappearances, torture, arbitrary detention, harsh and life-threatening prison and detention conditions, abuse of political prisoners, invasion of privacy, manipulation of justice, attacking members of civil society, censorship, disrupting peaceful assembly, restricting religious freedom and more.
Chinese officials have denied such charges and, as the Trump administration began institution sanctions over the accusations, Beijing called on Washington to stay out of the country's "internal affairs."
"The U.S. government, instead of introspecting on its own terrible human rights record, kept making irresponsible remarks on the human rights situation in other countries, exposing its double standards and hypocrisy on human rights," the Chinese report said.
"Standing at a new crossroads, mankind is faced with new, grave challenges," the report added. "It is hoped that the U.S. side will show humility and compassion for the suffering of its own people, drop hypocrisy, bullying, 'Big Stick' and double standards, and work with the international community to build a community with a shared future for humanity."
But President Joe Biden's administration has doubled down on his predecessor's strategy of targeting China over its domestic policies, and has recently joined Western partners in rolling out additional sanctions over alleged abuses in Hong Kong and Xinjiang.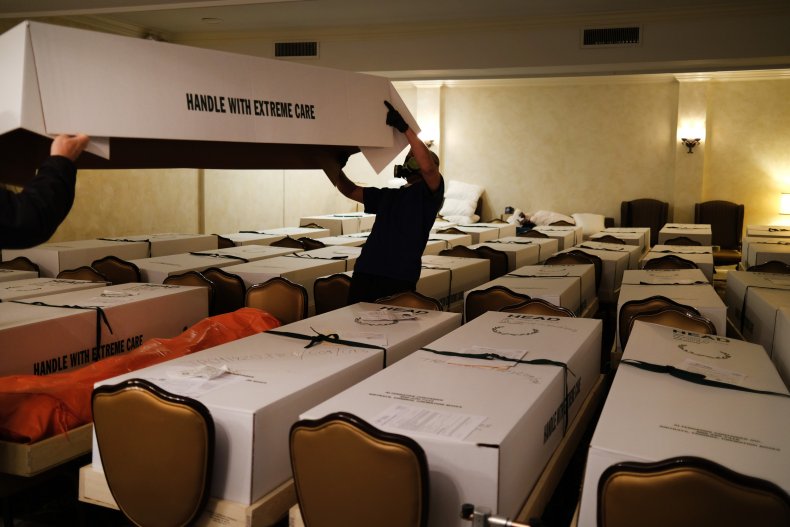 Speaking at the headquarters of the U.S.-led NATO Western military alliance in Belgium, U.S. Secretary of State Antony Blinken said he would discuss with European partners concerns the administration had regarding China, "including those related to trade, investment, human rights."
U.S. House Speaker Nancy Pelosi also cheered on the U.S. and allied sanctions over Xinjiang, calling the move "a strong and resounding step to hold China accountable for its barbaric atrocities against the Uyghur people."
"America, together with our allies, will continue to hold Beijing accountable for its campaign of human rights abuses, including those targeting the Tibetan people, people of Hong Kong and journalists, human rights lawyers and advocates on the mainland," the senior Democrat said in a statement. "If America does not speak out for human rights in China because of commercial issues, we lose all moral authority to speak out for human rights in any place in the world."
But in Beijing, Chinese Foreign Ministry spokesperson Hua Chunying questioned whether Washington even had such an authority.
Referencing the two recent mass shooting incidents of 2021, she said "the frequent occurrence of such racial discrimination and violent crime proves from one aspect that the United States has serious problems in protecting the human rights and safety of its people."
"Shouldn't these congressmen and politicians elected by the American people really do something for their people?" Hua asked. "The first thing they should do is to make sure that people like George Floyd breathe freely, that Asian-Americans are free from the nightmare of discrimination and hate crimes and will no longer live in fear, that the tragedy of more than half a million Americans dying from this epidemic is put to an end, and that all Americans have the rights to life and health."