FEMA Will Step in Providing Food and Shelter, There Will Be Thousands of Families Seeking Assistance…
Las Vegas is expected to become one of the focal points of the eviction crisis as nearly a quarter-million people could be removed from their homes in the coming weeks, reported AP News.
The Las Vegas Review-Journal reports a perfect storm of factors in Clark County including high unemployment, a high percentage of renters, collapsed travel and tourism industry, expiration of the state's eviction mortarium, and the end of federal unemployment benefits could result in an eviction wave beginning as early as next month.
Las Vegas research group Guinn Center and the COVID-19 Eviction Defense Project in Denver estimates about 250,000 people in Clark County, or approximately 10% of the population, are at risk of eviction in September.
Nancy Brune, Guinn Center executive director, called the situation "a bad confluence of events."
Brune said the virus-induced downturn had severely damaged Las Vegas as fewer people are coming to gamble at casinos. Brune said 47% of households in the county are renters, of the renters, about 38% are currently unemployed.
The bust cycle of Las Vegas could linger for a couple of years as the city must shrink to survive.
Las Vegas economic analyst Jeremy Aguero recently warned, an economic recovery in the town could take upward of three years.
"Our economy is in recession," Aguero said, warning that the velocity of job loss today was much higher than the economic crash a decade ago.
We noted, in late April, certain casinos were transformed into food banks, with thousands of residents lined up outside.
As for the rest of the country, at least 40 million people are at risk of eviction, according to Aspen Institute think tank. President Trump signed an executive order a week ago to stop evictions, though that doesn't appear to solve the looming crisis among renters at risk of losing their homes.
Let me make this very clear, I have a severe distrust of government. I believe it is the most inefficient and ineffective way to accomplish most things. While I strongly disagree with liberals/progressives on most political issues, and while I believe liberals/progressives are terribly misguided and naïve about what big government will eventually result in, I strive to not question their motives. At the same time, while I find myself in agreement with conservative politicians on some issues, I do not believe electing Republicans is the answer to everything. For me, very sadly, the main difference between Republicans and Democrats is how quickly they want to drive the car towards the cliff.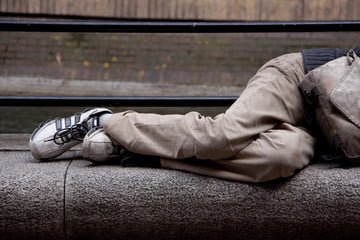 California's authoritarian governor, Gavin Newsom, blamed the state of Texas for California's homeless crisis. Rather than put the blame directly on the policies California has instituted that stifle free enterprise and punish heavily those who produce, Newsom said it's the fault of Texas.
Newsom said many homeless people on the streets of San Francisco are from Texas. in an attempt to shift the blame from himself and the polices of socialists (who get rich peddling socialism to the masses as everyone else becomes impoverished.)
Former California assemblyman turned Texas resident Chuck DeVore reacted to Newsom pushing the blame onto others. The vice president of the Texas Public Policy Foundation, Chuck DeVore, said Wednesday that Gavin Newsom is "responsible for the policies that have created California's homeless crisis," in the wake of the governor blaming Texas for San Francisco's homeless crisis. "What you're seeing here are the words of a desperate man that we should almost feel sorry for," DeVore, who served as a California assemblyman for six years, told "Fox & Friends."
"Governor Gavin Newsom has been in office now for 22 straight years, starting at the San Francisco board of supervisors," DeVore added. Homelessness has been rampant across the state of California in the past few years and merchants and homeowners have become increasingly vocal and incredibly irate at how things are going in the socialist dystopia.
[embedded content]
Though San Francisco has more billionaires per capita than anywhere else in the world, its homeless problem has rivaled third-world nations, according to Fox News. So much for all that "wealth inequality" the socialists are constantly pushing down the throats of the ignorant. Government policies are the most to blame for San Francisco's wealth inequality.
[embedded content]
DeVore doubled down on this, saying that the government's enslavement of the people of Californian is exactly why he left. He decided to leave California because of its "high cost of living [and] very burdensome regulations and taxes."
"There's more freedom in places like Texas, more opportunity to do what you want to do," he said.
The World Is In Big Trouble, for Those That Believe We Will Go Back to Some Sense of Normal Life Here on Earth, You Will Be Sadly Disappointed, Seven and Half Years of Hell on Earth Which Began January 1, 2020
"Our courts oppose the righteous, and justice is nowhere to be found. Truth stumbles in the streets, and honesty has been outlawed" (Isa. 59:14, NLT)…We Turned Our Backs On GOD, Now We Have Been Left To Our Own Devices, Enjoy…
While Mainstream Media Continues to Push a False Narrative, Big Tech Has Keep the Truth From Coming out by Shadow Banning Conservatives, Christians, and Like-Minded People, Those Death Attributed to the Coronavirus Is a Result of Those Mentioned, They Truly Are Evil…
StevieRay Hansen
Editor, HNewsWire.com
Watchmen does not confuse truth with consensus The Watchmen does not confuse God's word with the word of those in power…
In police-state fashion, Big Tech took the list of accused (including this site), declared all those named guilty and promptly shadow-banned, de-platformed or de-monetized us all without coming clean about how they engineered the crushing of dissent, Now more than ever big Tech has exposed there hand engaging in devious underhanded tactics to make the sinister look saintly, one of Satan's greatest weapons happens to be deceit…
The accumulating death toll from Covid-19 can be seen minute-by-minute on cable news channels. But there's another death toll few seem to care much about: the number of poverty-related deaths being set in motion by deliberately plunging millions of Americans into poverty and despair.
American health care, as we call it today, and for all its high-tech miracles, has evolved into one of the most atrocious rackets the world has ever seen. By racket, I mean an enterprise organized explicitly to make money dishonestly.
All the official reassurances won't be worth a bucket of warm spit. The Globals are behind the CoronaVirus, It Is a Man-Made Bioweapon.
2. Corinthians 4:8-11 New King James Version (NKJV)
8. We are hard-pressed on every side, yet not crushed; we are perplexed, but not in despair; 9 persecuted, but not forsaken; struck down, but not destroyed 10. always carrying about in the body the dying of the Lord Jesus, that the life of Jesus also may be manifested in our body. 11. For we who live are always delivered to death for Jesus' sake, that the life of Jesus also may be manifested in our mortal flesh.
My job is protecting children. It has taken me from big cities to rural outposts, from ghettos to penthouses, and from courtrooms, into demonic battlefields. But whatever the venue, the truth remains constant: Some humans intentionally hurt children. They commit unspeakable acts—for their pleasure, their profit, or both. StevieRay Hansen, CEO The 127 Faith Foundation
PayPal.Me/the127faithfoundatio