Coronavirus cases in the U.S. have climbed past 189,600, with the death toll over 4,000, while more than 7,100 have recovered as of Wednesday, according to the latest figures from Johns Hopkins University.
The virus, which was first detected in Wuhan, a city in China's Hubei province, has spread to more than 877,000 people in 180 countries and regions, over 82,300 of whom are in China, while more than 43,200 have died. Over 185,000 people have recovered from infection, including nearly 90 percent of patients in China. More cases are reported outside China than within but the country has seen a rise in imported cases.
New York continues to report the highest number of cases in the country, with nearly 75,800 confirmed infections, followed by New Jersey (nearly 18,600 cases) and California (nearly 8,500 cases). Michigan and Florida are also climbing the charts, with both reporting around 7,000 cases and Michigan seeing nearly 265 deaths to date.
U.S. sees nearly twice as many recoveries than deaths
The country has reportedly seen at least 7,136 people recover from infection, nearly double the number of fatalities. The U.S. reported at least 4,076 deaths, as of Wednesday, more than double the fatalities reported on Saturday, which was around 2,000.
The government has ramped up testing facilities and "over 1 million Americans have now been tested—more than any other country, by far; not even close—and tested accurately," President Donald Trump said at a White House press briefing on Monday.
"It's [increased testing] one of the reasons that we have more cases than other countries, because we've been testing. It's also one of the reasons that we're just about the lowest in terms of mortality rate, because we've been doing more testing," he said.
"The deployment of rapid testing will vastly accelerate our ability to monitor, track, contain, and ultimately defeat the virus. We will defeat the virus," he added.
While cases grow in the country, the official number of recoveries has yet to be reported.
Speaking to Newsweek, a spokesperson for the U.S. Centers for Disease Control and Prevention (CDC) said last week it does not "have the current numbers for recovered patients at this time, and CDC has not included this data in our ongoing case counts as of yet" but the CDC "may put it [the data on recoveries] together in the future."
U.S. fatalities pass 4,000
Cases continue to rise in New York, which reported 75,779 confirmed infections on Tuesday, New York Governor Andrew Cuomo confirmed.
New York City alone reports 41,771 cases and 1,096 deaths, according to the latest report from the city's health department.
New Jersey has 18,696 cases, including 267 deaths, according to the latest report from the state's Department of Health.
California has 8,588 cases, with 183 deaths, according to The Los Angeles Times.
Wyoming is the only state that has yet to report a death. It currently has 120 confirmed cases across 15 counties, according to the state's Department of Health.
A man wearing a mask walks by the New York Stock Exchange (NYSE) on March 17, 2020 at Wall Street in New York City. Healthy individuals only need to wear a mask if taking care of a sick person, the World Health Organization (WHO) advises.
Getty Images
New York City has been converting several public spaces into makeshift hospitals, including most recently the Billie Jean King National Tennis Center in Queens, the home of the U.S. Tennis Open. Other recent builds include a field hospital at Central Park and at the Javits Convention Center, which has nearly 3,000 beds, as well as the U.S. navy hospital ship Comfort, offering 1,000 beds and 12 operating rooms at Pier 90.
"As we continue to battle the ongoing COVID-19 pandemic, we have two missions—preparing our hospital system so it is not overwhelmed when the apex of the curve hits and ensuring people stay home so they don't get the virus in the first place," Cuomo said in a statement.
"This virus does not discriminate — no one is immune to it — and people must continue to be cautious, think of others and not leave their homes unless absolutely necessary," he added.
Michigan is also seeing a rising number of cases and deaths, reporting nearly 7,615 positive cases, including 265 deaths, according to the latest report from the state government's official website.
Michigan has more fatalities than Washington state, which saw a rapid spread of infections in the wake of the outbreak. Washington currently has at least 5,482 cases, with 225 deaths, according to figures from state counties.
Louisiana has seen the death of 239 people from its confirmed infected population of 5,237. While Florida reports 6,490 cases to date, with 85 deaths, according to their respective state health departments.
The graphic below, provided by Statista, shows the number of confirmed COVID-19 cases—the disease caused by the new strain of coronavirus—in a selection of states.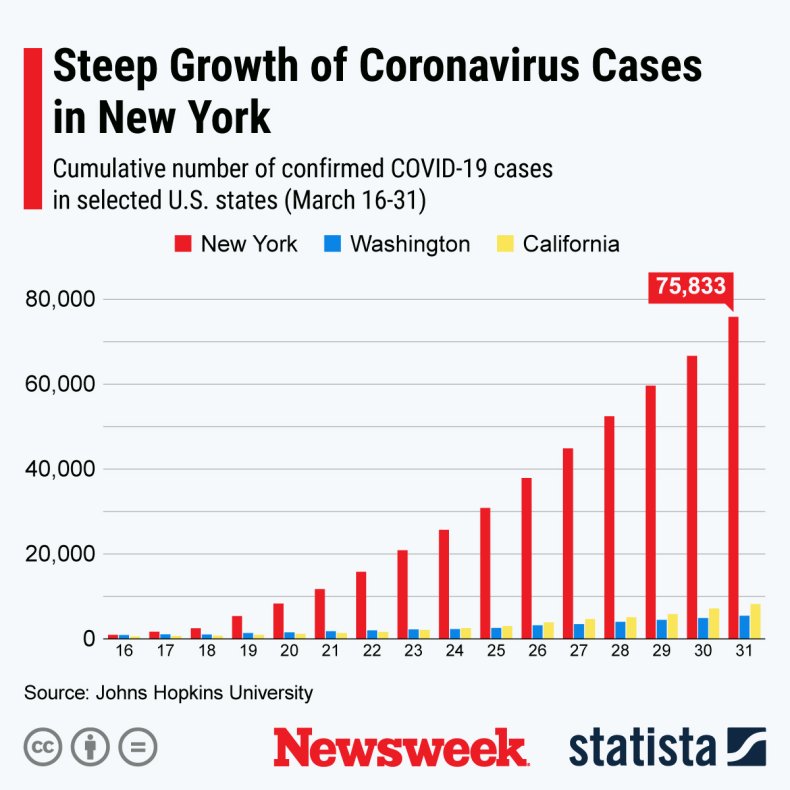 This infographic shows the number of confirmed COVID-19 cases in New York state, Washington state and California.
U.S. deaths to peak over next two weeks
With the death toll in the country expected to peak in the next two weeks, White House officials on Tuesday projected that potentially between 100,000 and 240,000 Americans could die from the virus even if the current social distancing measures are maintained.
President Donald Trump warned of a "very, very painful two weeks ahead" at a White House press briefing on Tuesday. Medical experts on the COVID-19 virus task force stressed the importance of gearing up mitigation efforts especially in the states that have yet to see the spike in cases seen in New York.
"There's no magic bullet," noted Dr. Deborah Birx, a physician and medical expert on the COVID-19 virus task force led by Vice President Mike Pence.
"There's no magic vaccine or therapy. It's just behaviors. Each of our behaviors, translating into something that changes the course of this viral pandemic," she said at the briefing.
While the director of the National Institute of Allergy and Infectious Diseases (NIAID), Dr. Anthony Fauci, who is also a member of the COVID-19 task force, noted the latest projection was sobering, "we don't necessarily have to accept it as being inevitable," he said at the press briefing.
"We have to brace ourselves. In the next several days to a week or so we are going to continue to see things go up. We can not be discouraged by that because the mitigation is actually working and will work," he said.
Nearly 80 percent of the U.S. is in lockdown
More than three-fourths of the country's population is reportedly under a "stay at home" order, CNN reports.
At least 32 states are reported to have issued a "stay at home" order, including Maryland, Virginia, Arizona and Tennessee, where it was issued on Tuesday.
A "stay at home" order requires residents to remain at home, while all non-essential businesses, including bars, restaurants and entertainment venues, remain closed, in a bid to enforce social distancing measures.
Texas Governor Greg Abbott issued an executive order on Tuesday "implementing Essential Services and Activities Protocols for the entire state of Texas. The protocols direct all Texans to minimize non-essential gatherings and in-person contact with people who are not in the same household," the governor's office confirmed in a statement.
The graphic below, provided by Statista, illustrates the spread of COVID-19 across the U.S.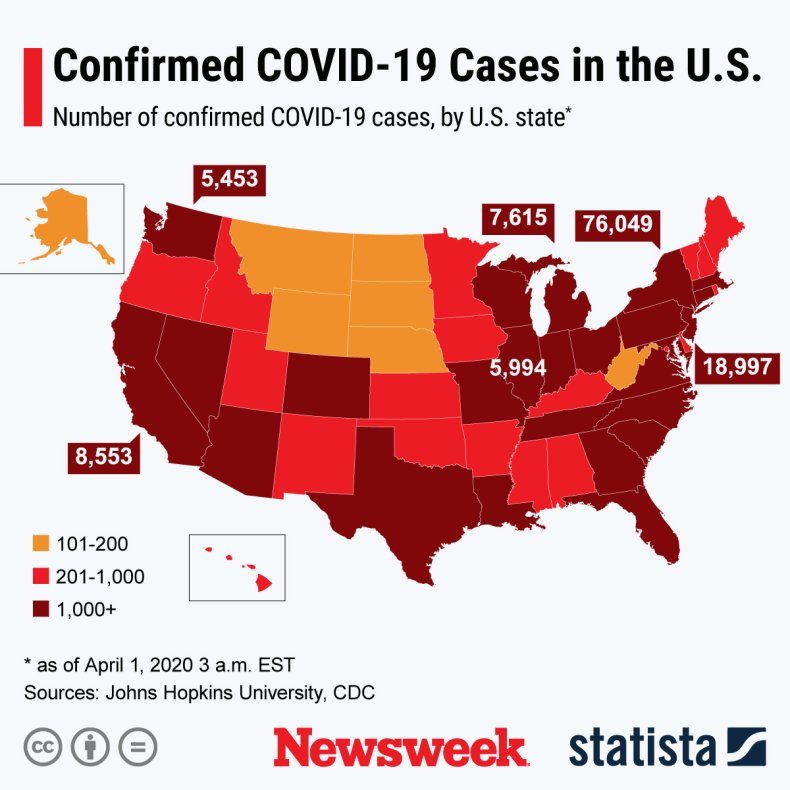 This infographic shows the number of confirmed COVID-19 cases by state.
Data on COVID-19 cases is from Johns Hopkins University unless otherwise stated.
World Health Organization advice for avoiding spread of coronavirus disease (COVID-19)
Hygiene advice
Clean hands frequently with soap and water, or alcohol-based hand rub.
Wash hands after coughing or sneezing; when caring for the sick; before, during and after food preparation; before eating; after using the toilet; when hands are visibly dirty; and after handling animals or waste.
Maintain at least 1 meter (3 feet) distance from anyone who is coughing or sneezing.
Avoid touching your hands, nose and mouth. Do not spit in public.
Cover your mouth and nose with a tissue or bent elbow when coughing or sneezing. Discard the tissue immediately and clean your hands.
Medical advice
Avoid close contact with others if you have any symptoms.
Stay at home if you feel unwell, even with mild symptoms such as headache and runny nose, to avoid potential spread of the disease to medical facilities and other people.
If you develop serious symptoms (fever, cough, difficulty breathing) seek medical care early and contact local health authorities in advance.
Note any recent contact with others and travel details to provide to authorities who can trace and prevent spread of the disease.
Stay up to date on COVID-19 developments issued by health authorities and follow their guidance.
Mask and glove usage
Healthy individuals only need to wear a mask if taking care of a sick person.
Wear a mask if you are coughing or sneezing.
Masks are effective when used in combination with frequent hand cleaning.
Do not touch the mask while wearing it. Clean hands if you touch the mask.
Learn how to properly put on, remove and dispose of masks. Clean hands after disposing of the mask.
Do not reuse single-use masks.
Regularly washing bare hands is more effective against catching COVID-19 than wearing rubber gloves.
The COVID-19 virus can still be picked up on rubber gloves and transmitted by touching your face.