A director for a state television channel in Belarus charges that she and other striking workers were not allowed to continue doing their jobs, saying that Russian specialists were brought in to take over amid large anti-government demonstrations.
In a video uploaded by Belarussian news source TUT.BY on Wednesday, the journalist identifies herself as Alena Martinovskaya, a director at state TV and radio channel Belarus 3.
"Today, my colleagues and I went to the work building around 9 am. There was an officer standing guard. He asked where I am going, and I said, 'To work.' He said, 'Please show me your license' and asked for my surname," Martinovskaya says in the clip.
"Then he said, 'You're on the blacklist, and we cannot let you in.' I asked, 'Why?' And he said, 'Just because.' Then the officer said, 'Call your boss to confirm what's going on,'" she continues.
Get your unlimited Newsweek trial >
Сотрудница Белтелерадиокомпании говорит, что ÑÐµÐ³Ð¾Ð´Ð½Ñ ÐµÐµ не пуÑтили на работу. По ее Ñловам, баÑтующих Ñотрудников заменили роÑÑийÑкими ÑпециалиÑтами. pic.twitter.com/Di5LtePPAz

— TUT.BY (@tutby) August 19, 2020
Martinovskaya speculated that the "blacklist" included the names of people who had complained about the results of the recent election. President Alexander Lukashenko, who has been dubbed "Europe's last dictator" and has held power for 26 years, won just over 80 percent of the vote in the August 9 contest. But the opposition has discredited the vote, saying that the results are fraudulent and that vote rigging took place.
Lukashenko, a close ally of Russian President Vladimir Putin, has dismissed the protests and cracked down on peaceful demonstrators. He has said that Putin promised to send Russian military assistance if necessary to quell the ongoing unrest.
Get your unlimited Newsweek trial >
The Belarus 3 director said that Russian crews had been flown in to take over for Belarussian journalists who have gone on strike or quit over their opposition to Lukashenko. Hundreds working for state media have reportedly walked off the job during the past week, according to BuzzFeed correspondent Christopher Miller.
"Two airplanes full of employees were flown in from Russia. They are taking over our responsibilities for a large sum of money," Martinovskaya said.
"In our republic, we don't have money for masks for medics," she said, referring to the government's response to the coronavirus pandemic. "We are crowdfunding all around the country. However, we have money for new Russian employees."
Opposition supporters demonstrate against the results of the disputed presidential election in Independence Square in Minsk, Belarus, on August 18.
SERGEI GAPON/AFP/Getty
Newsweek reached out to the Kremlin and the Belarussian president's office for comment, but they did not respond in time for publication.
Hundreds of thousands have taken to the streets in Belarus as authorities have cracked down on demonstrators and journalists. In the capital of Minsk, there have been reports of torture. Artyom Vazhenkov, who was arrested, described the detention center there in nightmarish terms.
"It was horrible—not what I saw but what I heard," Vazhenkov said after his release, Radio Free Europe reported. "At night, from our window outside we could hear people howling, screaming."
Reporters Without Borders, an organization that advocates for and supports journalists around the world, said in an August 14 statement that it was "highly alarmed about the numerous arrests of journalists in Belarus after the presidential election."
"Such an attack on the free press, particularly in a European country, is absolutely unacceptable," a spokesperson for the organization said.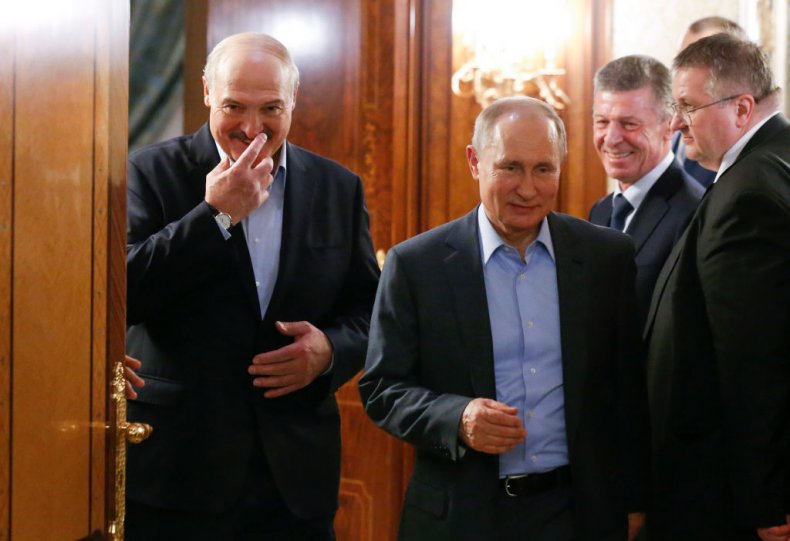 Russian President Vladimir Putin and Belarusian President Alexander Lukashenko during their meeting in Sochi, Russia, on February 7. Lukashenko has said that Putin promised to send Russian military assistance to his country if necessary to quell the ongoing unrest.
ALEXANDER ZEMLIANICHENKO/POOL/AFP/Getty
Meanwhile, opposition presidential candidate Sviatlana Tsikhanouskaya has fled the country. The European Union has agreed to target Belarussian officials involved in the alleged vote rigging and suppression of demonstrations with new sanctions. President Donald Trump also raised concerns about the situation on Tuesday, saying he would speak about it with Russia.
"I like seeing democracy. Democracy is a very important word. It doesn't seem like it's too much democracy there in Belarus," Trump said at the White House. "It's certainly a very big march, and it seems to be a peaceful march."
Protesters are calling for new elections, but Lukashenko has totally dismissed that possibility.
"You talk about dishonest elections and want to hold new elections," he told a crowd on Monday. "My response to this—we held the elections and until you kill me, there won't be any new elections."