Sweden, which never faced a coronavirus lockdown, is experiencing "a large risk of new outbreaks," the country's public health agency confirmed Tuesday, following weeks of declining new cases.
The director-general of the Public Health Agency of Sweden, Johan Carlson, warned: "We cannot sit back and relax. There is a large risk of new outbreaks in this country as well, both locally and in the form of more widespread transmission," at a press briefing Tuesday.
However, Anders Tegnell, the agency's chief epidemiologist (the equivalent of Dr. Anthony Fauci from the White House COVID-19 Task Force) remains skeptical about the use of masks in combating the virus.
"It is very dangerous to believe face masks would change the game when it comes to COVID-19," Tegnell told The Financial Times.
Get your unlimited Newsweek trial >
He added: "Face masks can be a complement to other things when other things are safely in place. But to start with having face masks and then think you can crowd your buses or your shopping malls—that's definitely a mistake."
The latest remarks came as the Scandinavian nation reported its first rise in weekly new cases since late June, following a consistent decline in weekly totals for five consecutive weeks since June 29, according to the World Health Organization (WHO).
Sweden saw a 33.4 percent increase in weekly new cases in the week commencing August 3, followed by another slight rise of 3.68 percent reported for the week starting August 10, according to the latest report Tuesday by WHO.
Get your unlimited Newsweek trial >
The country's seven-day rolling average of daily new cases has been consistently increasing from July 27 before mostly flattening out from around August 12, according to data compiled by Worldometer.
Tegnell, who has led Sweden's controversial anti-lockdown strategy, has previously called out the "astonishingly weak" studies on masks and the lack of evidence showing their effectiveness.
"The findings that have been produced through [the use of] face masks are astonishingly weak," he told the Bild newspaper earlier this month.
"I'm surprised that we don't have more or better studies showing what effect masks actually have. Countries such as Spain and Belgium have made their populations wear masks but their infection numbers have still risen. The belief that masks can solve our problem is in any case very dangerous," he added.
Carlson agreed Tuesday, noting: "In Spain, France and elsewhere, cases have increased significantly despite mandatory face mask use," at the press briefing.
"It's hard to understand what is going on—is it that face masks are being misused? Probably, yes. Could face masks crowd out ideas of social distancing? That is also possible.
"We will report on this when we get back on the governmental assignment we have in a couple of weeks. And we'll discuss with regional disease prevention units whether it could be a good method in some regions," Carlson added.
Meanwhile, recent polls suggested some Swedes are in favor of the use of masks. Four out of 10 people in the country were reported to support masks being required on public transport, while two out of 10 were reported to support masks being required in public places, according to a survey earlier this month by Swedish market research firm Demoskop and the Swedish newspaper Aftonbladet.
The Swedish nation continues to report of the world's highest death rates. It currently has the eighth highest death rate in the world, according to the number of deaths per 100,000 people. Its death rate outranks the U.S. and Brazil, which have the world's largest and second-largest total death tolls, respectively, according to Johns Hopkins University.
People in Tantolunden park in Stockholm, Sweden, pictured on May 30, 2020.
Henrik Montgomery/TT News Agency/AFP via Getty Images
Sweden has a much higher number of cases and deaths per one million people (8,420 cases, 573 deaths) than its neighboring Scandinavian nations including Norway (1,845 cases, 48 deaths per million), Denmark (2,717 cases,107 deaths) and Finland (1,399 cases, 60 deaths), according to WHO.
The mask debate continues across Europe amid fears of a potential second wave of the virus, with total cases in the region approaching nearly 3.8 million. Weekly new cases in Europe have been mostly increasing since the week starting July 13, according to WHO.
Anti-mask protests have erupted across parts of Europe in recent weeks, including this past weekend. Hundreds gathered Sunday in the Spanish capital of Madrid and Belgian capital of Brussels in protest against the mandatory wearing of masks and other restrictions imposed in both countries to help curb the spread of the virus.
Over 22.1 million people across the globe have been infected since the virus was first reported in Wuhan, China, including more than 5.4 million in the U.S. Over 14.1 million have reportedly recovered from infection, while more than 781,100 have died, according to the latest report Wednesday by Johns Hopkins University.
The graphic below, provided by Statista, illustrates countries with the most COVID-19 cases.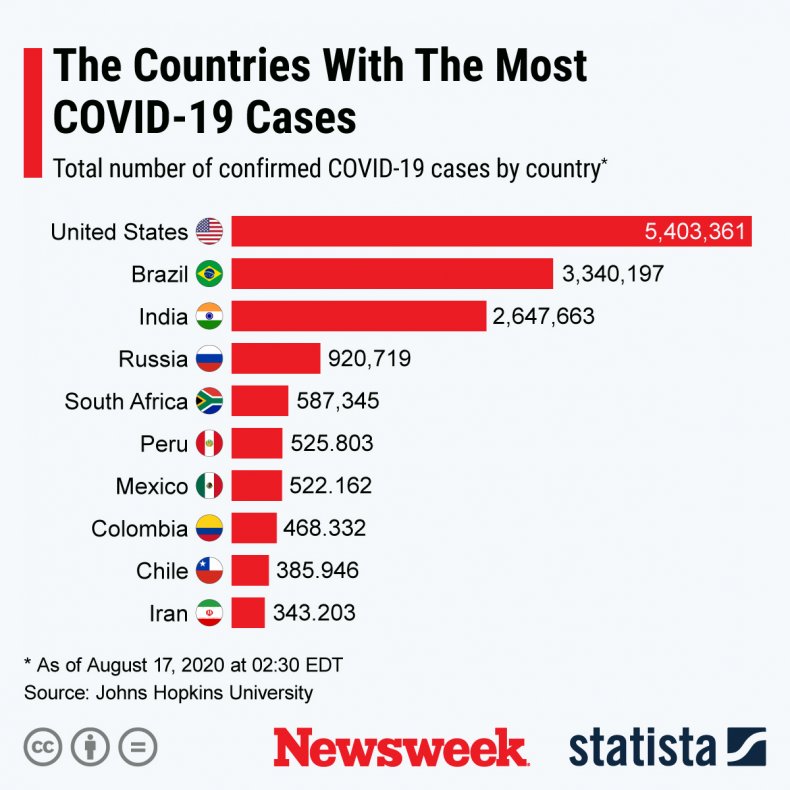 STATISTA
The graphic below, provided by Statista, illustrates a comparison of average new cases in the U.S. and the European Union.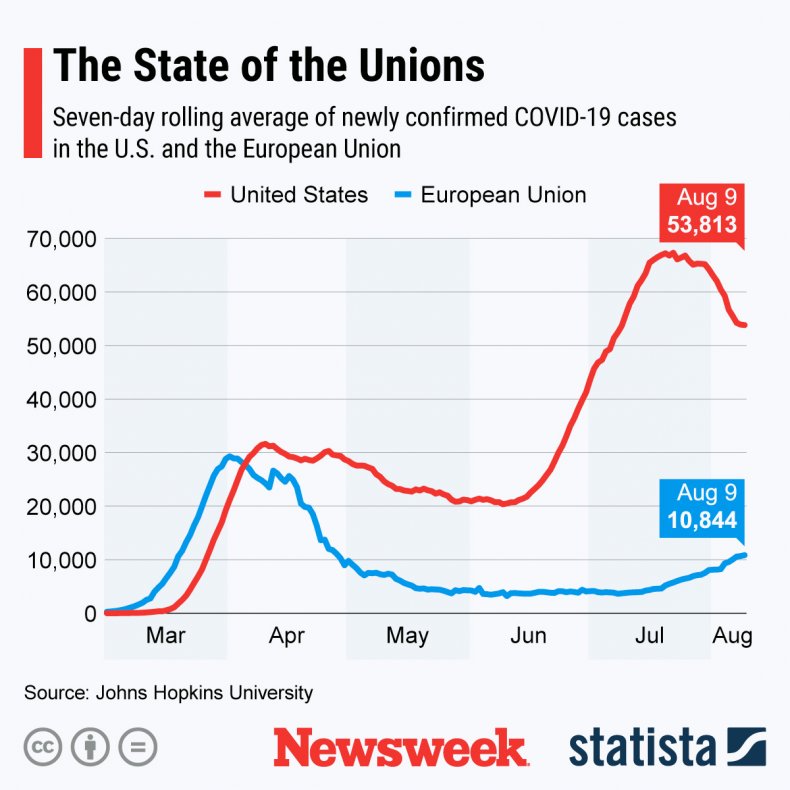 The average number of newly confirmed COVID-19 cases in the U.S. and European Union.
STATISTA