HOUSTON, TX – A two-year-old girl who went missing on Aug. 22 was found roughly 24 hours after her disappearance. Sadly, the little girl was not found alive.
Locals are now demanding answers in the death of this toddler, and most of those questions are being leveled at the deceased girl's mother and her significant other.
Family of missing 2-year-old meets with Quanell X, seeks answers https://t.co/i1Vz8lDIhk pic.twitter.com/3HEA1Um7fS

— ABC13 Houston (@abc13houston) August 25, 2020
The body of Maliyah "Tootie" Bass was spotted by someone jogging nearby a Southeast Houston bayou on Aug. 23. Crews later retrieved the young girl's body from the water.
Bass was pronounced dead at the scene by rescue crews.
Houston Police Chief Art Acevedo is convinced that what happened to the little girl was no accident. He said:
"I'm highly confident that foul play is involved in this case."
While police didn't outright say that the body discovered in the bayou definitively belongs to Bass, Chief Acevedo stated that there's really no one else the child could be at this point based upon missing children reports in the area.
The child's body was discovered just 15 miles from where she lived with her mother.
Chief Acevedo noted that from here on out, this case is being investigated as a murder:
"This is an active investigation as far as I'm concerned. We're approaching this as a murder investigation, and then we'll see where the evidence takes us from there."
The police chief asked for anyone by the bayou with any type of video security system to review captured footage from the day prior to the discovery to see if any clues exist that can assist investigators:
"If you live or have a business by the bayou go back for the last 24 hours and take an extensive look at any camera you might have. Anything that has happened along this bayou in the past 24 to 36 hours. We need the public's help."
Houston area people: if you live or work along Brays Bayou, check your surveillance from Saturday and Sunday for traces of Maliyah Bass. https://t.co/ULt2XkIK1p

— Old white lady in mask thinks Black Lives Matter (@AliceMCole) August 24, 2020
According to the police chief, justice will be brought towards whoever killed this young girl:
"We're gonna get justice for this family that's hurting, and justice for a little child who should be playing today on a Sunday in a playground and not on her way to the medical examiner's office for an autopsy."
Do you want to join our private family of first responders and supporters? Get unprecedented access to some of the most powerful stories that the media refuses to show you. Proceeds get reinvested into having active, retired and wounded officers, their families and supporters tell more of these stories. Click to check it out.
But locals in the area have their suspicions on this case – and are reportedly looking at Bass' mother to provide some answers.
On Aug. 24, the victim's mother and her boyfriend were seen being escorted to their apartment by members of Quanell X's New Black Panther Party. Neighbors captured on camera showcased a bevy of emotion and anger towards the little girl's mother.
Tensions were high at the apartments in southwest Houston where 2-year-old Maliyah Bass' mother and her boyfriend say the toddler was last seen. Neighbors want justice for the child. Maliyah's mother and her boyfriend are in the black truck in the video. https://t.co/l1ckdrsWJZ pic.twitter.com/yRybTqSWeA

— Mycah Hatfield (@MycahABC13) August 24, 2020
People in the surrounding area who were among those searching for the girl when she was first reported missing are reportedly starting to think there are severe holes in the mother's story regarding her child's disappearance.
💔Maliyah Bass' mother and her boyfriend returned to their apartment today. Neighbors were extremely worked up. Some had to be held back from attacking the two. Ultimately, neighbors say they are questioning what really happened to the 2-year-old girl. 💔https://t.co/l1ckdrsWJZ pic.twitter.com/DHs4i4XdnE

— Mycah Hatfield (@MycahABC13) August 24, 2020
Bass was reportedly last seen on Aug. 22 within the 10600 block of Beechnut Street, with the victim's mother telling police she had left her daughter outside to play by herself for a few minutes.
Then, when the mother came back outside to check on her daughter, she claimed that she was missing.
Keep in mind that the 20-year-old mother admitted to leaving her two-year-old daughter outside the apartment to play alone unsupervised.
Even if that's the honest truth, then that alone is an enormous issue as no reasonable parent would leave a toddler alone outside unsupervised.
Can't believe that woman let her 2 year old daughter play on a playground BY HERSELF as she watched from the window shit don't make any sense #MaliyahBass

— 𓂀 S☥eren 𓁭 (@__MindOfAGemini) August 24, 2020
Even though Quanell X's team escorted Bass' mother and her boyfriend back to their apartment, even Quanell X stated that there was negligence in that act alone:
"They admit they realize this is a very very high crime area. It doesn't make sense that if you know this is a high crime area, why would you bring your baby to a playground, go back in the house and shut the door behind you. That makes no sense. That is negligence as a parent."
The leader of the Houston New Black Panther Party stated that he is choosing not to represent the family in this case moving forward, but is seeking answers:
"I'm uncomfortable with the things I've been told. I'm uncomfortable with the things I've seen in the apartment complex."
In the meantime in Columbia, South Carolina, a newly promoted sergeant is frustrated that the killer(s) of a 7-year-old boy have not been identified. Trying to think of ways to get people to talk, he thought outside of the box and put the pictures of the child in rear passenger window of his patrol car.
A #ColumbiaPDSC Sergeant has this flyer posted on his patrol car to help get community tips about the murder of 7 y/o Knowledge Sims. Call @MidlandsCrime w/helpful tips about this case & others. Learn more on our website:https://t.co/HsLMj0fhqT pic.twitter.com/TLzFABdH9T

— Columbia Police Dept (@ColumbiaPDSC) August 18, 2020
Prior to George Simpson being promoted to Sergeant, he was a detective with the Columbia Police Department Violent Crimes Against Persons Unit.
After being promoted to Sergeant, he was assigned a patrol area which included the neighborhood where 7-year-old Knowledge Sims was shot and killed.
The raw emotion of a child being murdered is perhaps the reason that Simpson took ownership and started placing the picture in his patrol vehicle.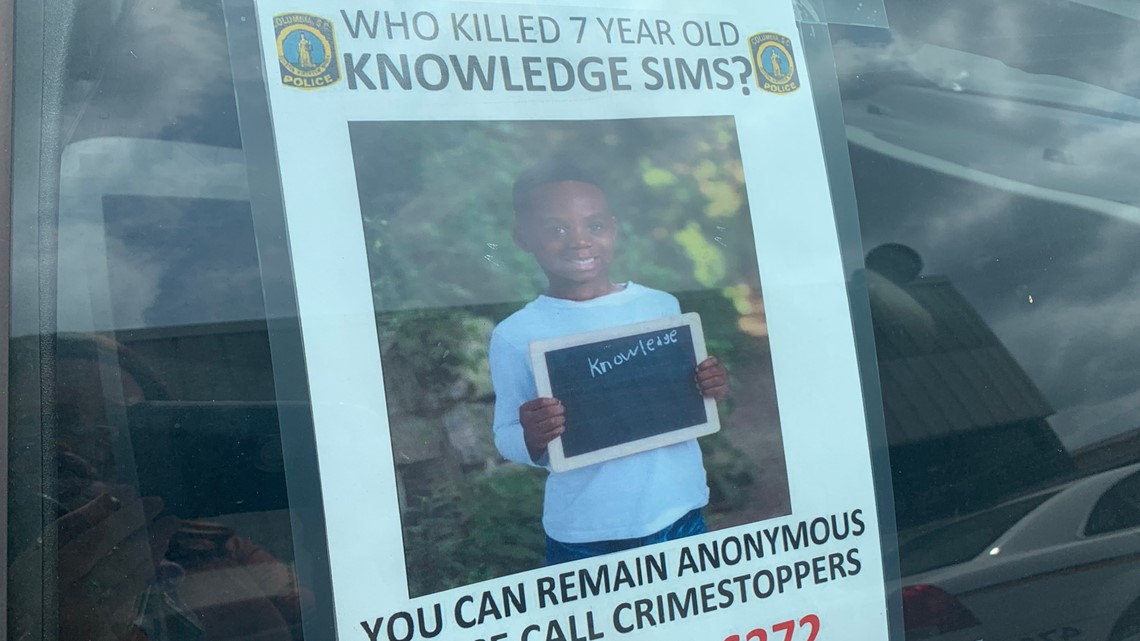 Credit Columbia Police Department
The incident involving the murder began when the Columbia Police Department responded on April 29th around 11pm for a reported shooting at a residence in the Capital Heights neighborhood.
Upon their arrival, they located Sims, who had been shot in his upper body and his older sister, 13, who had gunshot injury to her arm. Both children were rushed to the Prisma Health Richland Hospital. Sims succumbed to his injuries, but his sister survived.
At the time, Police Chief Skip Holbrook said:
"We're mad, angry," regarding the shooting.
He explained that the scene suggests one or two people fired around 12 shots into the house. There also appears to have been at least two different guns that were used at the scene. Holbrook said that there were nine total people inside of the home at the time of the shooting, including 7 children.
Police still have not released a possible motive for the shooting but has asked the public for help.
"Help us bring the people responsible for this cowardly act to justice," Holbrook stated. "We're appealing to your heart…if the murder of a 7-year-old doesn't put a lump in your throat and tear at your heart, I don't know what will."
Steve Benjamin, the Mayor of Columbia also called for public cooperation. He said:
"Step up right now and give this child and his family peace."
Unfortunately, the heartfelt pleas from the police department and city leaders for help appear to have fallen on deaf ears.
That is when Simpson decided that there had to be a way to entice people to speak, or at least keep the topic fresh in people's minds. That is when he thought of the idea to start placing the child's picture in rear passenger window of his patrol car.
His hope is that someone will see that child's face, feel bad, and start talking.
Whether it will work or not remains to be seen, but at least the effort is being made. Jennifer Timmons, the Columbia Police Department Public Information Officer said:
"CPD strongly believes that someone in the community or close to the investigation has information about what happened to innocent Knowledge but are reluctant to call us with information. Sgt. Simpson posted the flyer on his patrol car in an effort to gain Crimestoppers tips from the community about the person(s) connected to Knowledge's murder."
Often, people who may have knowledge of what happened are in fear of retaliation if they tell the police. That is why organizations like Crimestoppers exist. They afford the opportunity for people to call in their information while remaining anonymous.
The police department has requested anyone who has any information on this homicide to contact Crimestoppers at 888-CRIME-SC. The ATF can also be contacted to leave tips at 888-ATF-TIPS. Anyone who contacts the tip line that provides information that would lead to the arrest and conviction of those responsible may be eligible for up to a $25,000 reward.
In the meantime in Washington DC, police have released the photos of two suspects that are said to persons of interest in an ongoing robbery investigation that was described as gone-wrong, which resulted in a 5-year-old-boy getting shot in the stomach.
MPD seeks the public's assistance in identifying and locating suspects in reference to an Assault with a Dangerous Weapon (Gun) that occurred on 8/21/20 in the 1300 block of Congress Street SE.

Have info? Call (202) 727-9099/text 50411

Release: https://t.co/B7aJpjx7Ze pic.twitter.com/4skMBguqtA

— DC Police Department (@DCPoliceDept) August 22, 2020
The robbery and shooting were said to have taken place on August 21st at around 4:24 p.m. at a grocery store located within the 1300 block of Congress Street.
A mother was with her 5-year-old son and were headed to the store where the robbery suspects were fleeing from while firing multiple rounds upon their departure.
The child was struck by gunfire in the stomach. Thankfully, the boy was rushed to the hospitalized and was stabilized.
Suspect 1 – DC Police
DC Police Chief Peter Newsham lambasted the act that nearly killed a 5-year-old boy:
"We gotta do something about these guys who feel it's ok to indiscriminately fire guns in our community.
A mother and her 5-year-old son ought to be able to walk to the grocery store without having to take her son to the hospital for a gunshot wound. I think we all agree on that."
Suspect 2 – DC Police
One witness to the aftermath of the shooting explained the disarray the young victim was experiencing after getting shot that afternoon:
"[The boy] was running around and the mother was trying to hold him down. I told the mother to lay the little boy down and put her hands over the wounds. I was trying to keep him calm by talking to him and keep him relaxed."
The anonymous witness stated that he hopes the boy survives, but also acknowledged that even if he does survive, the physical and mental trauma alone will create long-lasting effects for the young boy:
"Having to live with those wounds, he's probably going to have some big problems."
Denise Smith, one of the locals near where the crime occurred, is among many who simply don't feel safe in their neighborhood anymore:
"It's a shame you can't even walk down the street, you can't even stand in front of your house without getting shot. What else can I do? Am I supposed to just stay in the house and not go anywhere?"
Poilce are reportedly offering up to a $10,000 reward for information leading to an arrest in the case. Anyone with information are asked top please call at 202-727-9099.
Do you want to join our private family of first responders and supporters? Get unprecedented access to some of the most powerful stories that the media refuses to show you. Proceeds get reinvested into having active, retired and wounded officers, their families and supporters tell more of these stories. Click to check it out.
GARNER, NC- On Saturday, August 15, 17-year-old Veronica Lee Baker was found in the parking lot of a Bojangles restaurant in Garner, North Carolina, shot to death. This past Wednesday, her alleged killer was taken into custody. Why haven't you heard about this? Well Veronica was white, and her alleged killer(s) were black. In other words, it doesn't fit the narrative.
[embedded content]
According to the U.S. Sun, Baker was shot to death inside her car. She graduated from Garner High School this past June, and was scheduled to start classes at Wake Community College in the fall, according to her father.
Police were called to the Bojangles fast food restaurant in Garner, located a short distance from Raleigh on Saturday, August 15th, on the report of an unresponsive person inside a car in the parking lot. Arriving officers found Baker inside the still running car, where she was pronounced dead at the scene, according to the Raleigh News & Observer.
This past Monday, Garner police released the 911 call reporting the incident, in which a man is heard saying that he sees a girl in a running vehicle who did not appear to be breathing.
The caller said:
"There's a car with the doors wide open and there's a girl who is unresponsive,
"It doesn't look like she's breathing."
The caller indicated that he had tried to shake the girl, however she was unresponsive.
Yet a second person on the call said that the car had been in the parking lot for a while, however they didn't realize something was wrong.
The second person said:
"I went on lunch. I went on my break a few minutes ago, sir, and when I came back the door was open. I didn't pay no attention,"
Wednesday, August 19th, police charged 17-year-old Devin Cordell Jones with murder in connection with Baker's shooting. Police also arrested three other people in connection with the shooting.
Officials said that Keyshara Michelle Deans, 19, Nezyiha Zamier Collins, 19, and Tyreek Qumay Rodgers, 18, helped Jones in fleeing the crime scene.
All three have been charged with felony accessory to murder.
Court records said that Deans was the one who allegedly drove Jones away from the crime scene, while the other two suspects are accused of fleeing North Carolina with Jones after the murder.
Officials told CBS17 that the three accessories were all being held on bond; Collins and Rodgers on $500,000 secured bonds each, with Deans being held on a $1.015 million dollar bond. She was also facing charges dating back to June, which are not related to Baker's killing.
Jones did not appear in court because he is a minor, police said.
Breaking News: 17-year-old shot, killed and found dead outside Bojangles on Jones Sausage Road https://t.co/6JbijQW3zG

— WRAL NEWS in NC (@WRAL) August 16, 2020
Baker's friends and neighbors described the teen as sweet and lovely, saying that she had her whole life ahead of her.
Baker's father, Jim Baker said that his daughter knew the accused killer, speaking to the News & Observer.
Baker said:
"I've seen him at school. They started hanging around sophomore year,"
Baker said he was sitting in the living room with his family when he received the phone call that police had made arrests in the case.
He said:
"I got the phone call right at 11,"
He continued:
"Holy crap, it's Detective Rigsbee,"
Baker said that he was relieved that police had made an arrest in his daughter's murder.
Baker recalls saying:
"Oh my God, they got 'em!"
In his interview, Baker said that he did not know the older suspects, however recognized Jones. He said that Jones and his daughter were friends, which is possibly why she allowed him in her car.
He believes that the motivation for the killing may have been robbery. Jones said that perhaps the fact that Baker and his family took trips together may have given rise to the belief that his daughter had a lot of money, her father said.
Police said Tuesday night Keyshara Michelle Deans, Nezyiha Zamir Collins, and Tyreek Qumay Rodgers, were charged with accessory after the fact to murder.

On Wed. morning, Devin Cordell Jones was taken into custody for the murder of Veronica Lee Baker.https://t.co/wpabp12hk5

— J.P.🦎 (@D_A_G_Chaos) August 19, 2020
He continued that her daughter knew how to defend herself and may have actually fought back. Baker, a retired Marine, said that he had trained Veronica how to use a knife and pepper spray.
Baker noted how Veronica had loved to go camping.
Kendall Anne who is a family friend, said:
"Almost every weekend we would go camping at my parents' lake property in Bunn,"
She continued:
"She was always so happy. So, kind. She was never selfish,"
Finally saying:
"She worried about everyone she cared about. She would literally give you the shirt off her back."
Jim Baker said that Veronica worked part-time at Harris Teeter, as well as in his RV repair business. She had learned to estimate the cost of a camper or an RV just by looking at one, he said. She had picked out her father's most recent RV purchase.
Camping was an activity they enjoyed together as a family, and Baker said that going camping going forward would be difficult, as his wife wants him to sell the camper.
He said:
"My wife said yesterday that she never wanted to go camping again,"
Veronica's funeral was set for Saturday, and a GoFundMe has been set up or her family.
_
Want to make sure you never miss a story from Law Enforcement Today? With so much "stuff" happening in the world on social media, it's easy for things to get lost.
Make sure you click "following" and then click "see first" so you don't miss a thing! (See image below.) Thanks for being a part of the LET family!