Summary:
California researchers build 5 minute test
US adds 55k new cases Saturday
India total cases top 7 million
Monday's Patriots-Broncos game cancelled
New research shows COVID survives on surfaces longer in colder temps
* * *
Nobel Prize winner Dr. Jennifer Doudna and a team of researchers in California have developed a rapid COVID-19 test that can detect the virus in just five minutes using gene-editing technology, SCMP reports.
The innovation, which must still be peer reviewed, could help lower the average turnaround time for COVID-19 tests, which in the US is currently 4.1 days, making it difficult for officials to get a real-time picture of how the virus is spreading.
The news comes as the US reported nearly 55,000 new positive COVID-19 cases on Saturday, down slightly from Friday's number.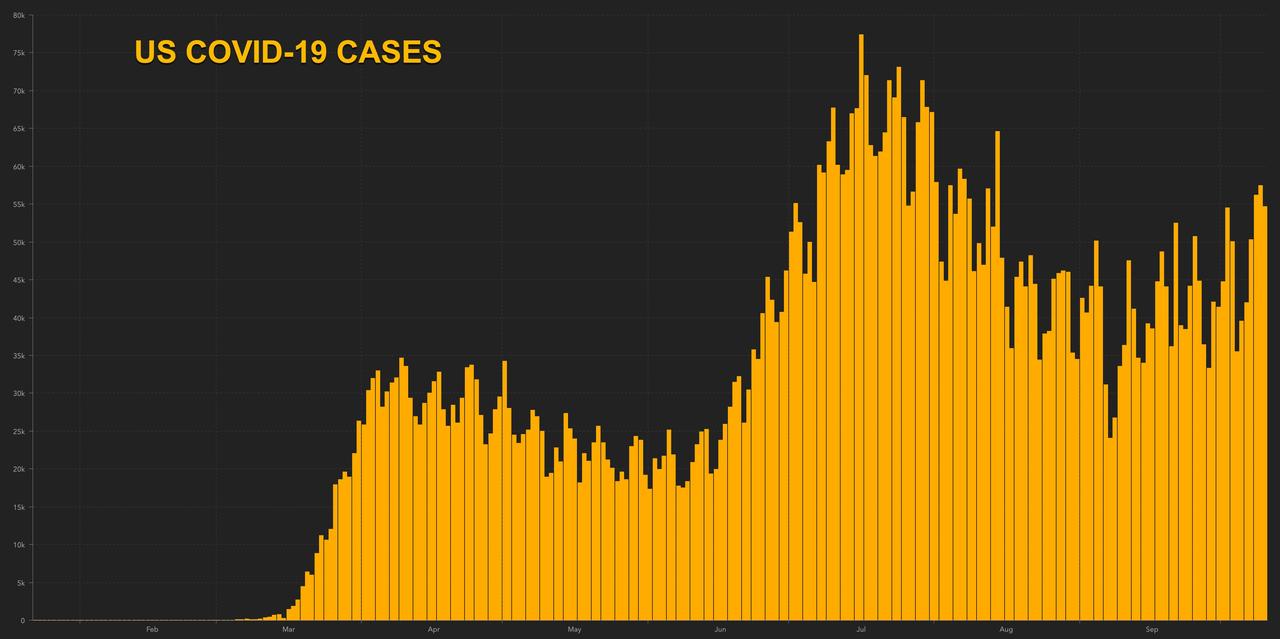 The US also reported 618 deaths, bringing its total to 214,379.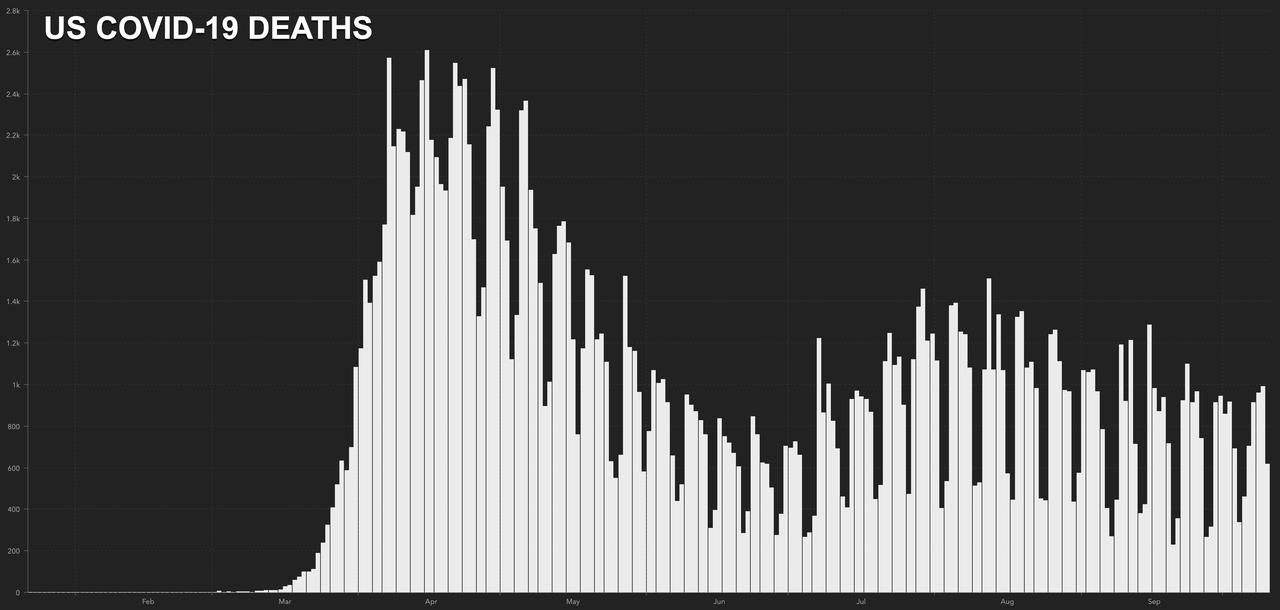 Amazingly, the test can detect the presence of the virus in a sample using a smartphone camera: The researchers have manufactured a portable device, outfitted with low-cost laser illumination and collection optics. Not only can the technology deliver a result within minutes, instead of hours, but it avoids bulky lab technology. In developing countries, a test like this could be a god-send, making a huge difference in the responsiveness of public health officials as they direct a community's efforts to contain the virus.
"The choice of a mobile phone as the basis for our detection device was motivated by the high sensitivity of current mobile phone cameras, the simplicity of integrating a mobile phone for detection, their robustness and cost-effectiveness, and the fact that they are widely available today," the researchers said.
What's more: unlike every other rapid test that's been produced so far, including the Abbott Labs rapid test being used at the White House, the test developed by Doudna and her team is sensitive enough to quantify the amount of viral matter in a sample.
"None of the current rapid testing options provide quantitative results, which could help evaluate an individual's level of infection and progression of disease," the paper said.
Here's some other coronavirus news from Sunday morning and overnight:
The NFL has indefinitely postponed the Denver-New England game originally scheduled for Sunday after another positive coronavirus test with the Patriots. That game had already been moved to Monday night, before the latest positive test involving a Patriots player was confirmed. The Patriots announced that they had losed their practice facility again after the latest positive test, while the Tennessee Titans have also closed their facility as of Sunday morning after yet another staff member tested positive. The decision also endangers the Titans' planned game against Buffalo for Tuesday (Source: AP).
India's confirmed COVID-19 cases topped 7 million on Sunday when the health ministry reported 74,383 new infections in the prior 24 hours to Sunday, as a spike in southern states offset a drop in western regions. Meanwhile, deaths from COVID-19 rose by just 918 in the last 24 hours to 108,334, the ministry said. India added a million cases in just 13 days, according to a Reuters tally, and it has the second-highest number of infections in the world behind only the US, which had 7,720,591 cases as of Sunday morning. The southern state of Kerala – a state that had been widely praised for its early virus-suppression efforts – contributed 11,755 of Sunday's cases, the highest tally in the country (Source: Nikkei).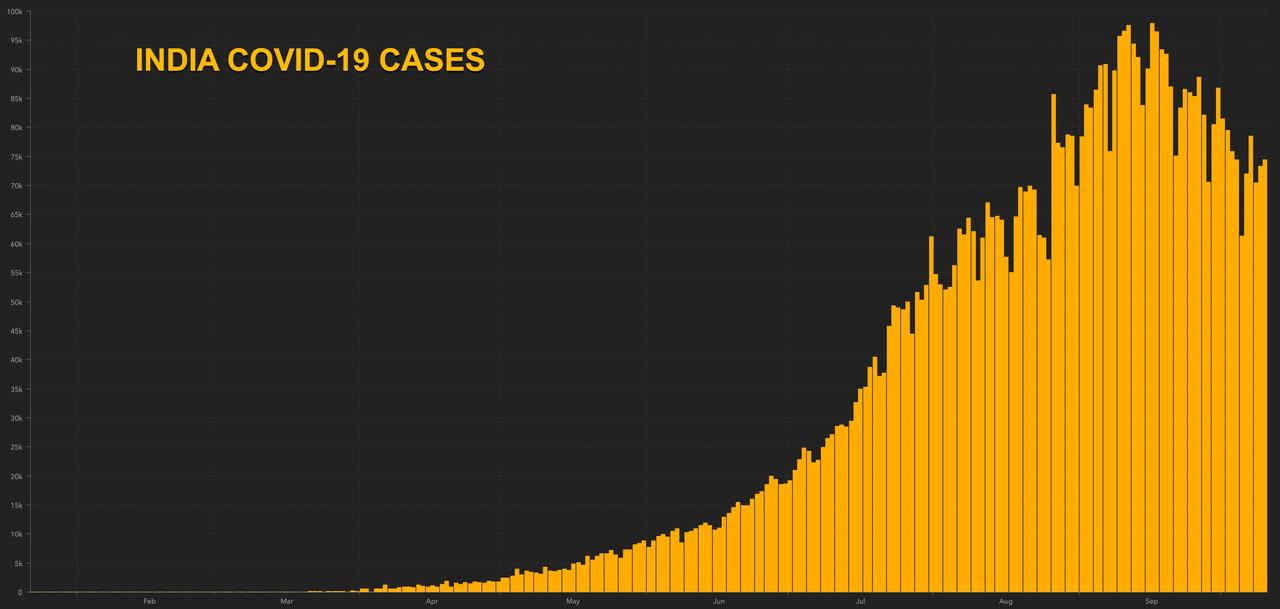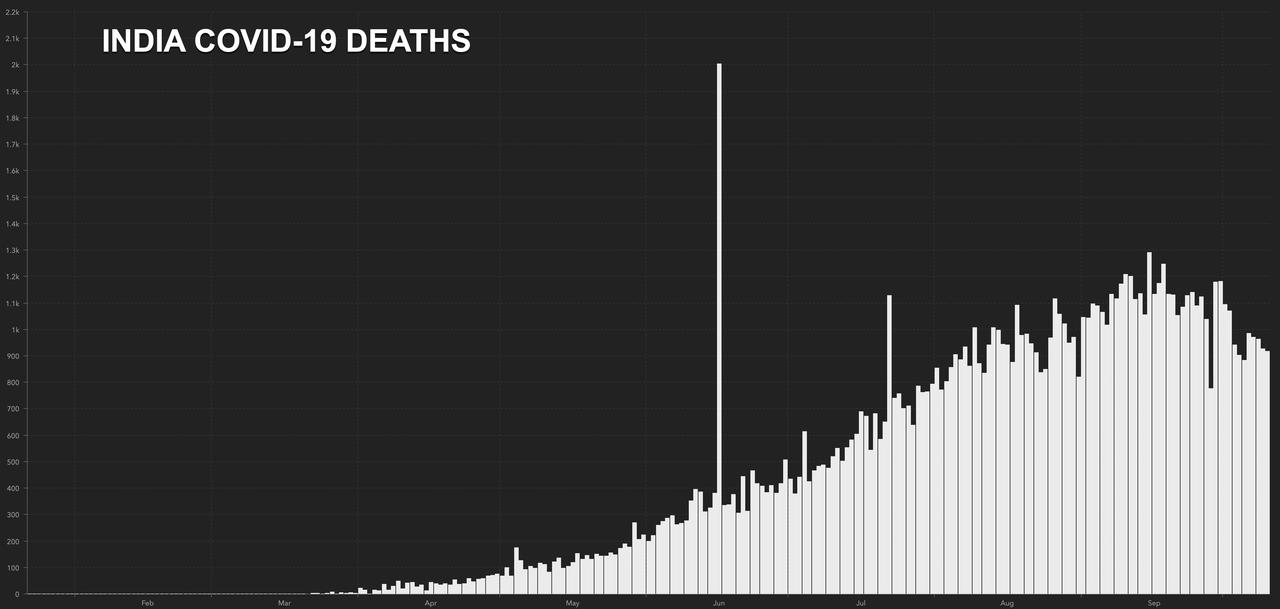 Maybe President Trump was right? New research shows that COVID-19 survival declined to less than a day at 40 degrees Celsius on some surfaces, according to the study, published Monday in Virology Journal. The findings add to evidence that the virus survives more easily in colder weather, adding to fears about a difficult-to-control wintertime outbreak (Source: Virology Journal).