As the nation begins to experience a post-Christmas surge in COVID-19 cases, a new and more contagious strain of the virus has emerged. Logistical problems are hampering vaccine distribution, and the goal of quickly reaching herd immunity for the country has begun to fade.
Operation Warp Speed is experiencing transmission difficulties.
All COVID-19 vaccines in the U.S. are ordered through the U.S. Centers for Disease Control and Prevention, creating a centralized system for distribution to the states and a nationwide protocol to administer the shots.
Last year, President Donald Trump said 300 million doses would be available this month as part of Operation Warp Speed, the program for quick development and approval of a vaccine to counter the coronavirus.
The figure was wildly optimistic. Drug manufacturers soon reduced production estimates. Alex Azar, secretary of the U.S. Department of Health and Human Services, revised the forecast and said about 40 million doses would be on hand in January. But it now appears about 20 million doses are immediately available—just 7% of the target.
Achieving herd immunity would allow the economy to reopen and civic life to return to something approaching normal, including returning to the office, going to a movie, concert, or ball game, or dining at a restaurant without major restrictions in place.
The percentage of the population needed to reach herd immunity varies by disease. A highly contagious disease such as measles requires greater than 95% of the population to be immune to halt rapid transmission of the disease and to achieve herd immunity, researchers Angel N. Desai, M.D. and Maimuna S. Majumder, Ph.D., said in a research paper published in the Journal of the American Medical Association.
Dr. Anthony Fauci estimated the U.S. could achieve herd immunity by the end of spring, or early summer, next year, if states' proceed with their COVID-19 vaccine distribution plans efficiently. Anthony Fauci, director of National Institute of Allergy and Infectious Diseases at NIH, testifies at a Senate Health, Education, and Labor and Pensions Committee on on September 23, 2020 in Washington, D.C. Graeme Jennings/Pool/Getty Images
Parents are required to show proof of vaccination against measles, mumps and rubella before enrolling a child in school—and those childhood diseases have been controlled. Polio and chickenpox were once common infectious diseases but are now rare in the U.S. because vaccines helped create herd immunity.
Herd immunity is achieved when most of the population is immune to an infectious disease, providing indirect protection – sometimes called herd protection – to those who are not immune to the disease.
"The virus that causes COVID-19 is like other coronaviruses that currently infect humans," the Johns Hopkins University researchers said. "We can expect that people who get infected will be immune for months to years, but probably not their entire lives."
If 80% of the population is immune to a virus, four of every five people who meet someone with the disease won't become sick. Depending on how contagious a virus is, typically 50% to 90% of the population must be immune to achieve herd immunity, Johns Hopkins University researchers Gypsyamber D'Souza, Ph.D. and David Dowdy, M.D., said in a research report.
But herd immunity isn't foolproof. Without a vaccine, even if most adults are immune to a disease it can still spread among children, the elderly or those with weakened immune systems.
Sweden's attempt to achieve herd immunity without a vaccine during the COVID-19 pandemic failed. Initially, Sweden shunned the lockdowns adopted in the U.S. and Western Europe to reduce spread of the virus, relying instead on a more limited governmental response and an individual's responsibility to curb spread of the disease.
But as the number of infections and deaths rose, the Swedish government limited gathering to a maximum of eight people and closed theaters. High schools are now online.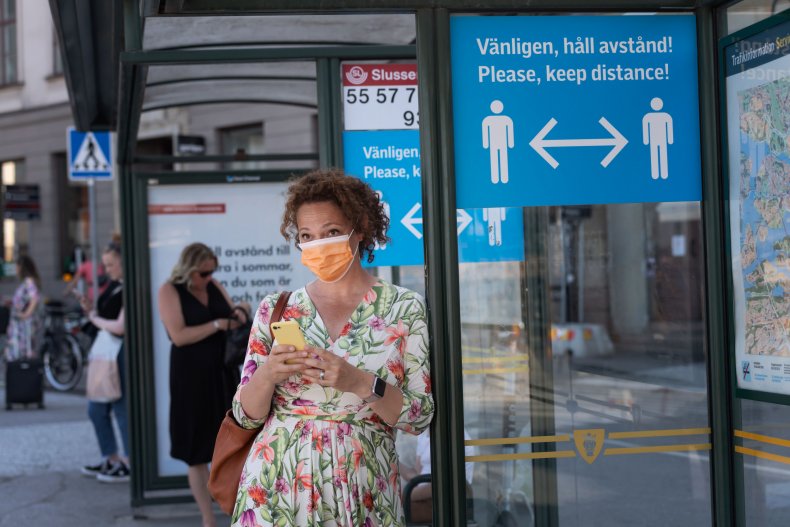 A woman wears a face mask as she waits at a bus stop beside a sign asking people to keep their distance amid the COVID-19 pandemic on June 26, 2020 in Stockholm, Sweden. STINA STJERNKVIST/TT News Agency/AFP via Getty Images
CDC recommends distribution of COVID-19 vaccine first to healthcare personnel and residents of nursing homes, followed by frontline essential workers and those over 75. Next in line are people aged 65 to 74, followed by those with underlying medical conditions.
The flu virus mutates and antibodies from an infection provide protection for only a short time, typically less than a year. That explains why doctors recommend that the elderly get a flu shot each year.
"The virus that causes COVID-19 is like other coronaviruses that currently infect humans," the Johns Hopkins University researchers said. "We can expect that people who get infected will be immune for months to years, but probably not their entire lives."
At a news conference Monday, New York Governor Andrew Cuomo said the state will increase efforts to control spread of the coronavirus, and he urged people to get vaccinated to "put a harpoon in the beast." There are 611 facilities across the state offering the vaccine, but only 288 people have completed the first doses of the vaccine.
"Use it or lose it," Cuomo told reporters at a news conference in Albany.
A second shot is required about 21 days after the initial vaccination. The state will send additional doses and personnel to help administer vaccinations over the next two weeks. Cuomo said hospitals haven't been giving the shots fast enough. The New York State Department of Health has warned hospitals that those not administering the vaccine in a timely fashion won't receive additional supplies in the future.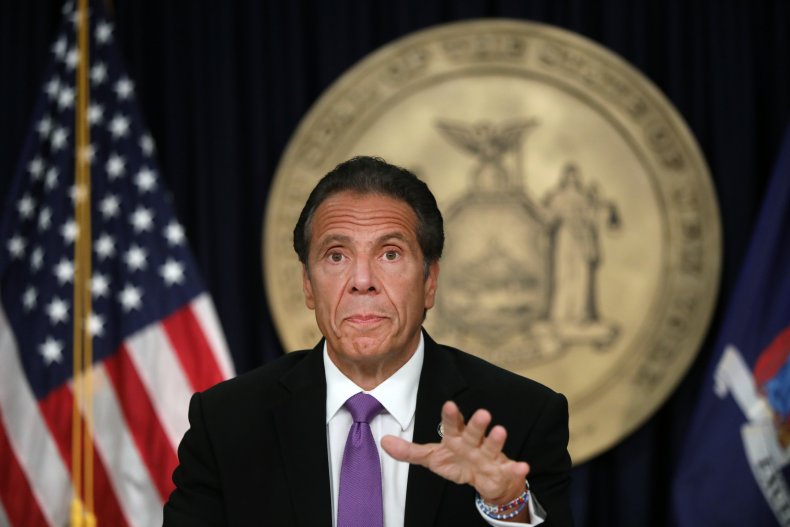 New York state Gov. Andrew Cuomo warned President Donald Trump that a delay in federal aid will hamper the distribution of the COVID-19 vaccine. He is shown above speaking at a news conference on September 08, 2020 in New York City. Photo by Spencer Platt/Getty Images/Getty
"Use it or lose it," Cuomo told reporters at a news conference in Albany.
If the governor follows through on his threat it could lengthen the path to herd immunity, because two COVID-19 shots are required to be effective. Skipping the second shot would negate the efficacy of the first.
New York State will supplement the efforts of pharmacies and hospitals by setting up drive-thru clinics at public facilities such as public housing, community centers and churches to distribute the vaccine.
Special attention will be given to low- income communities, the governor said. Earlier, Cuomo said the COVID-19 vaccine is the "weapon that will win the war."
He said about 75% of the population must be vaccinated to defeat the virus, but as many as 50% remain skeptical and may not get the shots.
"I won't ask New Yorkers to take a vaccine I wouldn't take myself," the governor said last month.
Some have criticized the governor's handling of the vaccination program.
"It's chaos out there. The state has no idea what it's doing," Rensselaer County Executive Steve McLaughlin told the New York Post. "The Cuomo handling of the vaccine is blithering incompetence. This administration can't administer the vaccines that are in its hands."
For his part, Cuomo blamed local officials, including New York City Mayor Bill de Blasio, for the low number of vaccinations.
"We need the public officials to manage those public hospitals," Cuomo told reporters, arguing that the city-run hospitals have been slow in administering the shots. The governor said there doesn't appear to be "a good explanation" for the disparity between New York-Presbyterian Healthcare System, which reports it has distributed 99% of its vaccine allocation, and New York's city-run hospitals that have administered about 31% of its doses.
Texas has been allocated about 1.2 million doses for the first three weeks of distribution. The first shipment arrived in mid-December. The Texas Department of State Health Services said about 380,000 doses of COVID-19 vaccine were sent to about 350 health providers statewide during the third week of distribution.
Frontline healthcare workers and patients in long-term care facilities received the vaccine first. Next up are people aged 65 or older and those with chronic health problems, including Type 2 diabetes, obesity, cancer or sickle cell disease.
"We are working aggressively to accelerate our pace," California Governor Gavin Newsom said Monday at a news conference. "We're going to start seeing more rapid distribution of vaccines, I can assure you of that. That said, it's gone too slowly, I know, for many of us."
Through Dec. 30, a total of 335,983 people have been vaccinated in California, and about 1.762 million doses have been distributed to local health departments and healthcare systems, the California Department of Public Health reported. California has about 2.245 million confirmed COVID-19 cases.
California Governor Gavin Newsom said the state has received about 1.3 million doses of COVID-19 vaccine from Pfizer and Moderna and another 611,500 are on the way. But through Sunday, only 454,306 shots had been given.
"We are working aggressively to accelerate our pace," Newsom said Monday at a news conference. "We're going to start seeing more rapid distribution of vaccines, I can assure you of that. That said, it's gone too slowly, I know, for many of us."
Newsom said state health officials are working to increase the number of sites where the shots are given and the number of people who can administer the vaccine, including dentists, pharmacy technicians and members of the National Guard. He said there are six confirmed cases of the new strain of the coronavirus in California, including four in San Diego and two in San Bernardino, about 55 miles east of Los Angeles.
"Jurisdictions are under immense stress now and have been for quite some time," Dr. Nancy Messonnier, director of the CDC's National Center for Immunization and Respiratory Diseases, recently told reporters. "Jurisdictions are supporting the largest vaccine rollout in the country's history and trying to maintain standard public health services. Their hard work and dedication now and in the future are the reason the COVID-19 vaccine program will be successful."
New variants of COVID-19 reported in the United Kingdom and South Africa appear to infect people more easily than earlier strains of the virus, but there is "no evidence" that the variants are more severe or increase the risk of death, Henry Walke, M.D., director of the Division of Preparedness and Emerging Infections at the U.S. Centers for Disease Control and Prevention, told reporters in a recent conference call.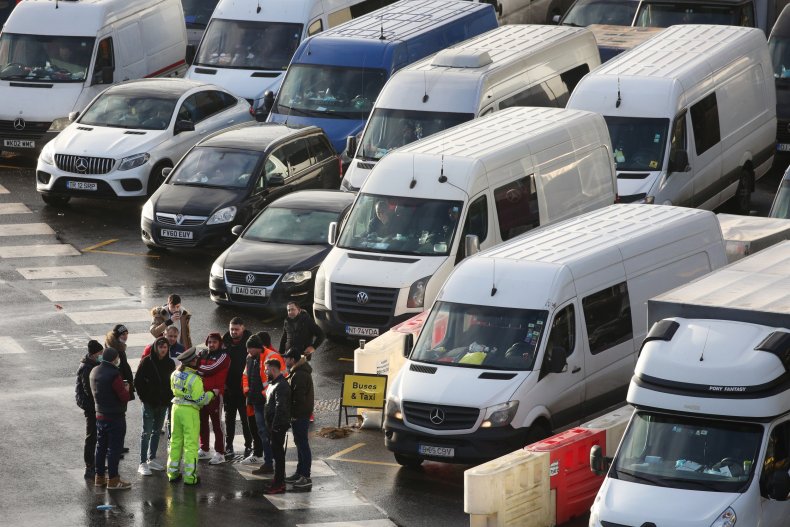 Colorado Governor Jared Polis announced on Tuesday a new COVID-19 mutation was confirmed in a local patient. In the photo above, a police officer talks with travelers queued at the Port of Dover on December 23, 2020 in Dover, United Kingdom. Nearly 3,000 lorries were stranded around Kent after France banned all travel from the UK, citing concerns over a new variant of COVID-19. Dan Kitwood/Getty
"Because the variants spread more rapidly, they could lead to more cases and put even more strain on our heavily burdened healthcare systems," he said. "Viruses constantly change through mutation. We expect to see new variants emerge over time. Many mutations lead to variants that don't change how the virus infects people. Sometimes, however, variants emerge that can spread more rapidly, like these."
Health officials don't know how widely the variant has spread.
In England, Prime Minister Boris Johnson imposed a new nationwide lockdown to contain the new, highly contagious mutation of COVID-19. People will be permitted to leave their homes only to buy essential supplies, go to work if they can't do their job remotely or to visit a doctor. Primary and secondary schools as well as universities will move to remote learning.
Without the emergency action, Johnson said the National Health Service could be overwhelmed in about three weeks.
"I completely understand the inconvenience and distress this change will cause millions of people and parents up and down the country," said the 55-year-old prime minister, who was in intensive care for three days last year after being infected with COVID-19. "The problem isn't that schools are unsafe for children. The problem is that schools may act as vectors of transmission, causing the virus to spread between households."
The new strain of the coronavirus has been found in upstate New York, Cuomo said.
A 60-year-old man, whose name wasn't released, appeared to have contracted the mutated strain at a jewelry store in Saratoga Springs.
"He appears to be on the mend," the governor said.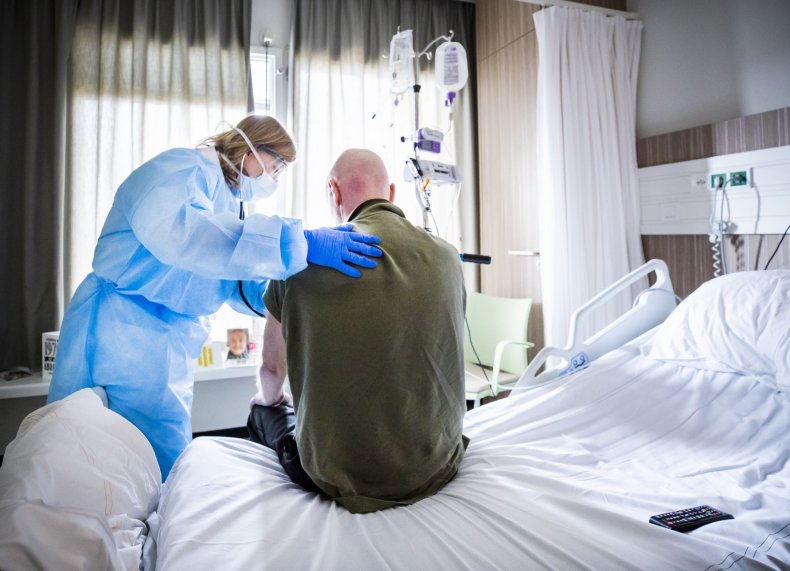 A physician listens to the breathing of a patient who is recovering after admission to an intensive care unit in the COVID-19 patient nursing department of The HMC Westeinde Hospital in The Hague on April 4, 2020. REMKO DE WAAL/ANP/AFP via Getty Images