Ratings for the NBA Finals continue to see a historic collapse. Game 3 of the finals averaged just a 3.1 rating and 5.94 million viewers, making it "the least watched and lowest rated NBA Finals game on record," according to Yahoo Sports.
It is the latest chapter in an NBA Finals that has continued to set the bar lower and lower for itself in terms of ratings:
"Game 3 of the #NBAFinals was the least watched @NBA Finals game on record.

The previous record? Game 2 .."

The previous record before that? Game 1.

(via @RenderAnalytics) pic.twitter.com/WSm6id5fWy

— Carl Quintanilla (@carlquintanilla) October 10, 2020
In a poll on Yahoo Sports with 22,266 responses, people were asked why they thought the NBA's ratings had dropped off. Player protests/politics was the overwhelming favorite, at 61%, as to why people are turning away from the NBA.
Although we may not see those in the industry brave enough to admit that the politics are causing a problem just yet:
NBA Finals ratings being at an all-time low is due to the fact that an NBA Finals game without a crowd is not a great product. Combine that with increased chord cutting and even more options. The NBA's position on politics and race has very little to do with it.

— Darren Rovell (@darrenrovell) October 5, 2020
Recall, just days ago we noted that Game 2 also saw a ratings collapse of 68% to all time lows.
It appears that viewers are no longer interested in the political and social justice messages of the NBA but rather were tuning in for (believe it or not) actual basketball. As the balance of the league has tipped from less sport to more activism, viewers are tuning out.
Game 2 of the NBA Finals saw a major collapse in viewers, with just 4.5 million people tuning in. This is down 68% from last year's game two, we noted. In fact, the ratings made Game 2 the least watched NBA Finals game on record, dropping below the 7.41 Game 1, which was the lowest viewed finals opener in history.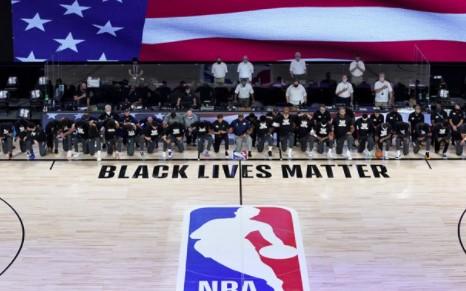 There really doesn't seem to be much of a spin that the NBA can put on the terrible ratings, other than the league has simply lost the interest of many who would have once tuned in. In fact, one of the league's most "outspoken" voices on oppression and racism, LeBron James, should have been the feature draw for this year's finals.
Instead, it appears he could be exactly what is turning viewers away.
We have also been documenting the recent ratings collapse that the NFL has suffered in the midst of turning its league into a political movement over the last few months.
In early October the NFL reached out to players, telling them "not to worry" about the decline in ratings. Also in denial, they blamed the Presidential race for the drop in ratings, telling players: "The 2020 presidential election and other national news events are driving substantial consumption of cable news, taking meaningful share of audience from all other programming. Historically, NFL viewership has declined in each of the past six presidential elections."