Coronavirus
A weekly roundup on the latest information on COVID-19 cases, vaccinations, and the state's reopening.
Massachusetts is officially reopened, after most of the state's pandemic restrictions were lifted over the holiday weekend. Still, after more than a year since the coronavirus shut the state down, the push is continuing to get more and more residents fully vaccinated as case rates of COVID-19 continue an encouraging downward trend.
Below, what you need to know about the state's reopening, vaccinations, and COVID-19 trends this week.
The latest on the state's reopening
Gov. Charlie Baker is filing legislation to extend several pandemic-related emergency measures put in place via executive orders that are set to expire this month when the state of emergency will end on June 15.
The proposed measures would extend the temporary suspension of certain open meeting law requirements (until Sept. 1), special permits for expanded outside dining at restaurants (until Nov. 29), and billing protections for COVID-19 patients (until the end of 2021).
Most pandemic restrictions, including business capacity limits and mask-wearing rules for fully vaccinated individuals, were rescinded Saturday.
Even though most pandemic restrictions have been lifted on businesses in the state, many are still weighing whether or not to require employees to be vaccinated or wear masks at work. A survey from the Newton-Needham Regional Chamber found that nearly 30 percent of businesses said they will mandate employees wear masks, while a similar number will not. About 23 percent of businesses said they will be requiring employees returning to the workplace to be vaccinated, while nearly 40 percent said they will not.
With more people returning to public transit as the state reopens, the MBTA is boosting some subway and bus service with the expectation that ridership will continue to increase this summer. Starting June 20, the transit agency will increase the frequency of Red, Orange, and Blue line trains as well as on the Green Line's C, D and E branches. Buses will also begin running more frequently, and some previously eliminated routes will be restored.
Restrictions may be lifting in the state, but Cape Cod officials are asking travelers to the region to bring their masks and vaccination cards on vacation. Some Cape Cod businesses, like nightclubs, will be requiring proof of vaccination, and others will still be asking visitors to wear masks.
Students at all Massachusetts school districts will be required to learn in person this fall, the Department of Elementary and Secondary Education told superintendents last week. In-person learning will resume with all health and safety requirements, including physical distancing, lifted. Districts will not be allowed to offer remote learning as a standard learning model. But, districts will still be encouraged to maintain ventilation upgrades where possible, as well as smart hygiene practices, and extend policies that make it possible for sick students and faculty to stay home.
The latest on the state's vaccination progress
CVS Health is launching a sweepstakes Tuesday with weekly drawings and more than 1,000 potential prizes for customers who get shots through CVS or register for them. Prizes include a trip to the Super Bowl, a Bermuda vacation, cash giveaways, Target gift cards, trips to Miami, and stays in Wyndham hotels.
The announcement from the pharmacy retailer comes as the pace of vaccinations begins to lag nationally. Several states have already created lottery prizes to entice residents to get vaccinated.
Customers ages 18 and older can enter the CVS sweepstakes, which will run until July 10.
Cambridge-based Moderna announced last week that its COVID-19 vaccine strongly protects kids as young as 12, a step that could put the shots on track to become the second vaccination option for that age group in the United States.
The company said it will submit its teen data to the U.S. Food and Drug Administration and other global regulators early next month. Preliminary findings showed the vaccine triggered the same signs of immune protection in kids as it does in adults.
General vaccination information to know:
The number of people in the state who have been fully vaccinated (as of Sunday): 3,653,148
According to The New York Times vaccine rollout tracker, Massachusetts ranks fourth among states for the percentage of residents who are fully vaccinated (53 percent). The Bay State is also third in the nation based on the percentage of the state population who have received at least one dose (66 percent). See how Massachusetts compares to other states and U.S. territories here.
Eligibility and how to book an appointment:
Individuals age 12 and older who live, work, or study in Massachusetts are eligible to get a COVID-19 vaccine. People who are ages 12 to 17 can only receive the Pfizer vaccine, but individuals 18 and up can get any of the approved vaccines (Pfizer, Moderna, or Johnson & Johnson).
Use vaxfinder.mass.gov to search for appointments at pharmacies, health care providers, mass vaccination sites, and other community locations on your own.
Those who are 75 or older or without internet can connect with a state vaccine hotline operator by dialing 2-1-1 Monday through Friday from 8:30 a.m. to 5 p.m. (press 2 for the call center) for help finding and booking appointments.
For more on booking appointments, visit the state website here.
View a map of vaccination sites in Massachusetts here.
The latest on the state's COVID-19 case trends
Just one community remained with the highest risk of COVID-19 transmission last week, and it isn't one of the two on the list from the previous week.
Tisbury is the only community in the red zone, with a positivity rate of 6.86 percent. Lawrence and New Bedford were the two communities with the highest risk last week. Both cities fell to a yellow designation this week.
As of Sunday, Massachusetts is reporting the following information on COVID-19 cases:
Newly reported cases: 146
Estimated active cases: 6,702
Newly reported deaths: 4
Percent positivity (seven-day average): 0.66%
Hospitalized patients: 236
Average age of hospitalized patients: 59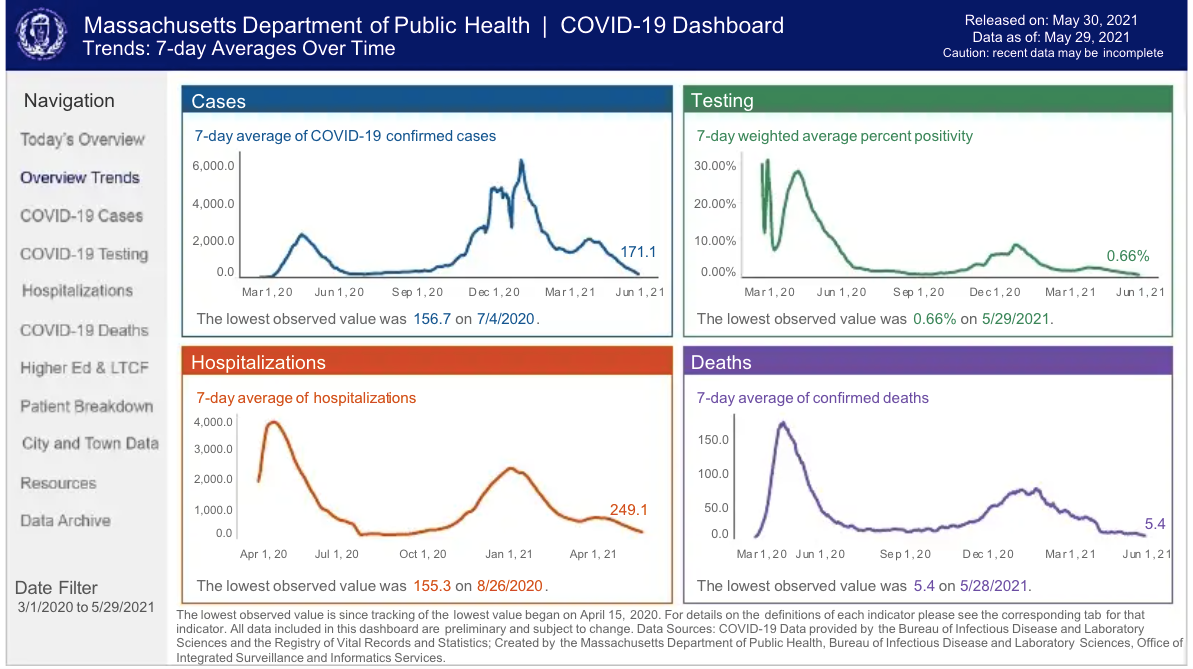 See the latest data report here.
Newsletter Signup
Stay up to date on all the latest news from Boston.com